Hawkeye Fan Shop — A Black & Gold Store | 24 Hawkeyes to Watch – 2017-18 | Fight For Iowa | Hawk Talk Monthly — September
By JACK ROSSI
hawkeyesports.com
 
IOWA CITY, Iowa — First-year wide receivers coach Kelton Copeland took over a young and inexperienced group heading into the season, but after the first three weeks, the position has unveiled more talent than expected.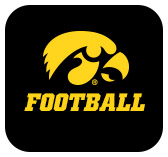 Copeland's receiving corps has had an influx of new faces, young and old, this season with the roster carrying 14 total receivers including five true freshmen, four transfers, and eight underclassmen.  The group has been leaning heavily on leadership and has not been let down.
 
"It starts with leadership," Copeland said. "They set the pace and the example. I tell the guys that it is our job to set a leader and the follower's job to follow that leader."
 
The obvious choice for a leader was fifth-year senior Matt VandeBerg, who entered this season as Iowa's No.1 receiver after obtaining a medical redshirt following an injury in 2016.
 
"VandeBerg does a great job of setting the example and pace," Copeland said. "The young guys have done a great job of following him and they have started to take accountability for themselves and their actions and being where they are supposed to be when they are supposed to be there. I feel really good about them."
 
Copeland provides his players opportunities and urges them to take advantage of every opportunity they can get. Through three weeks, several players have already found themselves in opportunities to succeed.
 
"We've all seen Ihmir Smith-Marsette and what he has done so far," Copeland said. "That is only the tip of the iceberg for him. He helped us a lot in the Iowa State game and what people don't see is his commitment off the field."
 
Along with young receivers on the offense, the team is also developing first-year quarterback Nate Stanley, which makes the progression of both a little more difficult.
 
"We're learning," Copeland said. "We all have to get on the same page and that is why we are out at practice working. These guys get in extra work after practice to get the timing, the spacing, and the checks that go along with the run game. It's a day-by-day process."
 
The process, for Copeland, isn't as much of a grind as it is an enjoyment to watch these young players find themselves on the field.
 
"It's fun," Copeland said. "Nate Stanley is amazing. I look at him and have to remind myself that this is his first year starting. Just through the first three games, he looks like a three-year veteran. Watching our guys respond to Nate and how he commands the field and the team is fun."
 
Copeland's group faces an experienced defensive backfield this Saturday against Penn State. It will be another step and another challenge in getting the group to where they want to be.
 
"Our job is to prepare and be the best Iowa football team we can be," Copeland said. "Penn State just happens to be the next opponent. They have a lot of veterans and they do a great job of communicating, hiding coverages, and executing and I am up for the challenge."
 
Copeland and his receivers take the field for Iowa's Big Ten opener Saturday, Sept. 23, at 6:42 p.m. (CT) against Penn State on ABC. Fans can purchase tickets at hawkeyesports.com or over the phone at 1-800-IA-HAWKS.