Hawkeye Fan Shop — A Black & Gold Store | 24 Hawkeyes to Watch – 2017-18 | Fight For Iowa | Hawk Talk Monthly — September
By JACK ROSSI
hawkeyesports.com
IOWA CITY, Iowa — The University of Iowa football team will chase perfection tonight when the second chapter of its season begins against Penn State under the lights on national television.
It's a similar echo heard before the Hawkeyes defeated No. 3 Michigan a year ago, but once again, it won't be easy.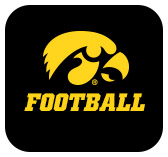 The undefeated Hawkeyes and undefeated Nittany Lions square off for the first time since Nov. 5, 2016, when Iowa fell in University Park, Pennsylvania, but it is a new season and that result doesn't mean much in 2017.
"I know there has been a lot of talk about avenging last year's game," Iowa head coach Kirk Ferentz said. "The reality is we have a lot of players that are playing for us now that weren't on the field. Many of them weren't even on the trip last year. Our focus right now, our motivation is to play our best for 60 minutes, and that's what it's going to take to be victorious."
It's a clean slate for Ferentz's squad and the team controls its own destiny moving forward. Iowa's road to 3-0 included a 24-3 win over Wyoming, an overtime victory at Iowa State in a 44-41 shootout, and a come-from-behind win over North Texas — a game where Iowa scored the game's final 21 points. The Hawkeyes know they have not been perfect and their deadline for perfection is now.
"We've been trying to clean things up that past three weeks," senior Boone Myers said. "Now it is time. They are a good team and they are going to expose us if we make mistakes. It's going to be a good game."
Iowa enters the game as the underdog and the Hawkeyes would not have it any other way. In fact, they relish this opportunity.
"We love that chip on our shoulder," said Myers. "It's what Iowa football is about. We have a lot of walk-ons and underdogs with chips on their shoulders. It's that workman's mentality that you are going to go out there and work no matter what."
Iowa shines brightest beneath the lights. The Hawkeyes have won their last four home night games, including that thrilling 14-13 victory over Michigan in 2016. Iowa will get a few more hours to get ready, watch last-minute film, and relax before game time, but as with a later start, its game day routine won't be the same as the excitement builds.
"I think anybody that's human, their juices will be going a little bit because of the environment," Ferentz said. "There seems to be a little bit of extra electricity. Then it's our job to keep generating it. We can't just count on the crowd."
Iowa kicks off the Big Ten season tonight on ABC at 6:42 p.m. (CT) with Chris Fowler, Kirk Herbstreit, and Maria Taylor on the call.