Hawkeye Fan Shop — A Black & Gold Store | 24 Hawkeyes to Watch – 2017-18 | Fight For Iowa | VIDEO — Sunday Conversation with Coach Ferentz
By DARREN MILLER
hawkeyesports.com
IOWA CITY, Iowa — Does the University of Iowa football team have the moxie and attitude to move on after a tough defeat Saturday to Penn State?
 
Iowa head coach Kirk Ferentz thinks so.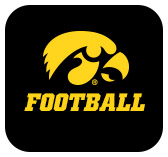 "We can't dwell on (the 21-19 loss to Penn State)," Ferentz said Sunday during an interview with hawkeyesports.com. "We have to learn from it and move on."
 
Ferentz called it a great game and thanked the 66,205 fans for once again making Kinnick Stadium an electric venue under the lights.
 
"Kinnick night games are special and (the fans) were in it right from the start and right to the end," Ferentz said. "It was a great environment down there."
 
Penn State, the defending Big Ten champion and rated fourth in the nation, improved to 4-0 when quarterback Trace McSorley completed a 7-yard touchdown pass to Juwan Johnson as time expired. A series earlier, Iowa running back Akrum Wadley capped a three-play, 80-yard drive with a 35-yard touchdown run. That gave the Hawkeyes a 19-15 lead with 1:42 remaining.
 
"You had two teams competing about as hard as you possibly can," Ferentz said. "There is a reason (Penn State) won the championship last year; it has a lot of good players back from that team.
 
"It was a back and forth type game. I was proud of the way our guys fought and hung in there because it wasn't going our way in the first half until the end when Sam Brinks and Josey Jewell combined on an interception."
 
On the first play after Jewell's 33-yard interception return, Stanley completed a 21-yard touchdown pass to Nick Easley, giving the Hawkeyes a 7-5 lead at halftime.
 
"The offense, which had been struggling, converted on the first play and got a touchdown," Ferentz said. "Even though statistics didn't favor us, we went into the locker room with a two-point lead. We made good adjustments and the game went right down to the wire."
 
DEFENSIVE PERFORMANCE
"(Penn State) has such a talented and skilled offense, we knew that would be a challenge for us. Josey continues to play so well for us; he is an unbelievable football player and leader on our team.
 
"Then some younger guys whether it's (A.J.) Epenesa, a true freshman, who is doing good things out there, Anthony Nelson gets better with every game he plays now as a second-year player, and Amani Hooker has done good things, too, as a young player in the back end.
 
"The guys fought collectively hard. (Penn State's Saquon) Barkley is a tremendous football player and by the end of the game he was probably the difference. Proud of the effort and competitive nature our guys played with."
 
OFFENSE, FIELD POSITION AND NATE STANLEY
"Nate continues to impress us. We started in tough circumstances and never really had field position until the last possession in the first half, so that made it a challenge. Their defense made it a challenge, too. They had a good game plan, they are a very aggressive, blitzing defense. They can do it with the athletes they have; they have big, skilled players that are well-coached. It took us awhile to get our feet on the ground, but I thought everybody settled down a little bit and in the second half we made adjustments that helped us.
 
"Nate's proficiency went up once we went past the first part of the game. Going back to that first part, we had a couple 'makeables'…we tried to run before we caught the ball, we had a miscommunication on a route that would have been open, a few little things we have to get ironed out, which is correctable. Big picture-wise, we are pleased with Nate's composure, leadership abilities — he has done a good job moving our football team."
 
(Stanley finished the Penn State game completing 13-of-22 passes for 191 yards and two touchdowns.)
 
INJURY REPORT
"As of (Sunday), everything looks good, so we're happy about that. We're in good shape right now which will be important because we have a big two-game stretch."
 
AKRUM WADLEY
"I can't say enough about him. He is a big-play guy both run and pass-wise. (Defenses) have to concern themselves with covering him in the passing game and then running game, the same way; he can be dangerous."
 
PLAYING AT MICHIGAN STATE
"We have seen growth in four games and a lot of different circumstances and challenges. In the long run hopefully those things will help us build a resume and build a good, solid football team.
 
"The most important thing we can do now is take from these experiences and try to build on that. Last week I thought we had our best week of preparation and practice. What we need to do is keep stacking those together and we will need it this week. It will be a tough challenge playing Michigan State; going on the road for your first road game in the Big Ten is always a challenge. I'm sure they will be a salty, well-coached football team."
 
TAKE-AWAY FROM THE PENN STATE LOSS
"The way our guys fought and hung in there and competed. It started out tough and we knew we were up against a team that was hard to contain. They got their yards, but they didn't get their points; that is a compliment to our team the way they fought. They were competitive.
 
"I told them (Sunday) afternoon, the first half didn't go our way other than we hung in there a little bit defensively. We kept fighting and scrapping and the next thing you know, we make a big play on defense and that was set up by great field position — put them on the 6-yard line with a good plus-50 punt. We got the turnover and boom, converted right away. Despite our struggles, we're 7-5 and halftime
 
"When you're playing an underdog role and a talented team, if you can keep it close and basically we were one play away from getting this thing done. Proud of their effort and the way they fought to the end."
 
Iowa takes its 3-1 record to Michigan State on Sept. 30 with a 3 p.m. (CT) kickoff. The Spartans are 2-1 after losing to Notre Dame, 38-13, on Sept. 23.