Hawkeye Fan Shop — A Black & Gold Store | 2017 Football Season Tickets | Kinnick Edge | Fight For Iowa
Editor's Note: The following first appeared in the University of Iowa's Hawk Talk Daily, an e-newsletter that offers a daily look at the Iowa Hawkeyes, delivered free each morning to thousands of fans of the Hawkeyes worldwide. To receive daily news from the Iowa Hawkeyes, sign up HERE.
By RICK BROWN
hawkeyesports.com
 IOWA CITY, Iowa — Sam Brincks is the latest University of Iowa football player to make it to the field following a time-honored blueprint.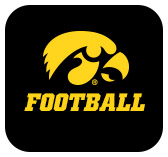 The junior defensive end from Carroll, Iowa, arrived as a walk-on, then spent several years building his body for the rigors of Big Ten football. He got his first taste of action as a special teams player. That opened the door to extended minutes at the line of scrimmage.
 
"It's a lot of hours," Brincks said. "You sacrifice a lot, but when you play in big games like this, it's all worth it for sure."
 
Kinnick Stadium, under the lights, was the scene for the first primetime moment of Brincks' career Saturday. Late in the first half, he beat his man on the edge and got to Penn State quarterback Trace McSorley just as he was throwing the ball.
"As a defensive end, we're always scouting the other guy," Brincks said. "I saw some things that I thought would work and it worked out."
 
Brincks' pressure led to linebacker Josey Jewell's interception, which he returned 33 yards to the Nittany Lions' 21.
 
"I was excited that our team was put in a position to score," Brincks said.
 
Nate Stanley found Nick Easley for a touchdown pass on the next play to give Iowa a 7-5 halftime lead.
 
On an electric night at Kinnick Stadum, Brincks' big moment and Stanley's touchdown pass were two plays that lit up the crowd. There were plenty more during No. 4 Penn State's final-play 21-19 victory.
 
There were a lot of plays for the defense to negotiate. Penn State ran 99 plays from scrimmage, to 45 for Iowa, and had the ball for 39 minutes, 39 seconds. All those snaps on a hot night could be a cause for concern, but depth on the defensive line kept Iowa in the game until the final tick.
 
Brincks, who got some time on the field last season when Parker Hesse was out with a hamstring injury, has now become part of defensive line coach Reese Morgan's rotation at that end spot.
 
"Sam is a great guy," said Iowa head coach Kirk Ferentz. "It's his fourth year in the program. He's growing with each and every step, and that was a huge play (Saturday). It was good to see that. We had a lot of guys do little things that would have contributed to the win had we come out on top. We didn't get the win, but those little things will add up to be helpful for us down the road."
 
Four plays before getting to McSorley, Brincks wrapped up Heisman Trophy candidate Saquon Barkley for a 2-yard loss on a draw play. Anthony Nelson had 2.5 sacks, batted away two McSorley passes, had five tackles, and blocked a field goal.
 
True freshman A.J. Epenesa had a sack and was credited with three quarterback hurries, and Parker Hesse had two tackles for a loss, forced a fumble, and broke up a pass.
 
"A.J. played well, Anthony had a monster game, and Parker is always solid," Brincks said.
 
Brincks and Hesse are roommates. Their friendship goes back to 2013 when Brincks' Kuemper Catholic team beat Hesse's Waukon team, 31-28, for the Iowa Class 2-A state title.
 
Hesse came to Iowa with a scholarship. Brincks came chasing his dream.
 
"I've been a Hawkeye my whole life," Brincks said. "Just wearing this jersey means a lot to me."
 
Brincks spent his time in the weight room, not the field, his first few years on campus.
 
"Coming in as a walk-on, the biggest thing was developing my body," Brincks said. "I wasn't ready when I came here. It took a couple of years, but you just keep working hard."
 
On Saturday night, there were times when Brincks and Hesse were on the field at the same time.
 
"We're both pretty competitive individuals," Brincks said. "We're always competing against each other, whether it's at home or at the football facility. He's a good friend and teammate to have."
 
Hesse said the defensive ends have exceptional comraderie, an extension of his friendship with Brincks.
 
"We're a tight-knit group," Hesse said. "Just to see those other guys making plays and changing the game makes you real proud. Not just as teammates but as friends."