Hawkeye Fan Shop — A Black & Gold Store | 24 Hawkeyes to Watch – 2017-18 | Fight For Iowa | Hawk Talk Monthly — September 2017
Editor's Note: The following first appeared in the University of Iowa's Hawk Talk Daily, an e-newsletter that offers a daily look at the Iowa Hawkeyes, delivered free each morning to thousands of fans of the Hawkeyes worldwide. To receive daily news from the Iowa Hawkeyes, sign up HERE.
By JAMES ALLAN
hawkeyesports.com
IOWA CITY, Iowa — Corey Burns will never say it was a blessing that she tore an ACL three games into her junior season with the University of Iowa soccer program. But in a way, it turned out for the best.
 
Burns' younger sister, Devin Burns, joined the Hawkeyes as a freshman in 2016. Instead of playing one collegiate season as teammates, the Burns sisters got two.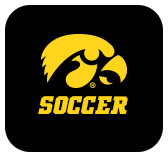 "I don't want to say that it's good that I got hurt, but it's kind of nice," said Corey. "My family loves that we have two years together.
 
"One of my dad's friends says, 'I don't think you guys know how cool it is to have my best friend's daughters playing together in the Big Ten.' It is cool that we're in this conference playing together."
 
The Burns sisters played one high school season alongside one another at Loyola Academy in Illinois, leading their team to regional and sectional titles. They were also teammates in club soccer, competing at youth soccer regionals and national events.
 
Devin always wanted another opportunity to play with her older sister. Enter the University of Iowa, where the sisters have suited up for the Hawkeyes in 22 games the last two seasons.
 
Eleven times, the sisters have both been in the starting lineup at the same time where their names are announced one after another — younger sister wears No. 30, older sister wears 33.
 
Their jersey numbers hold special meaning to the Burns family.
 
"Corey wears No. 33," said Devin. "She asked for it (in college) because it's a family number. Our uncle died when he was 33 and that was his football number. It's special to our whole family.
 
"I chose No. 30 because my dad's football number was 30. My younger sister said she is going to take (No. 33) when she joins the program."
 
On game days, it can be surreal for parents Bill and Heidi Burns.
 
"My mom says it brings a tear to her eye every time our names are announced," said Devin.
 
"My parents love it," said Corey. "It's cool hearing both our names (announced) together."
 
Both on and off the field, the Burns sisters are competitive. Corey, a defender, is the straightforward, decisive one; Devin, a forward, sits back and soaks things in. They push one another to be the best.
 
"We're both hard on each other," said Corey. "I am harder on her when it comes to critiquing her game. That's what makes this so special. When you're not playing well for the team, it's easier for us to tell each other.
 
"It's a given sisterhood. Our whole team treats each other like sisters, but it's easier for us."
 
The Burns' have nine guaranteed chances remaining to play together as Hawkeyes during the regular season.
 
"It's sad thinking I won't be able to play this competitively with her again," said Devin. "It makes me want to extend it to get more opportunities. It is exciting that I get nine more games and all the practices. It's a short time, but I'm grateful to be out there with her playing on the same team."
 
"(As the season winds down) it brings pressure," said Corey. "Now is the time we play for each other and our team so that we can continue playing with one another."