Hawkeye Fan Shop — A Black & Gold Store | 24 Hawkeyes to Watch – 2017-18 | Hawk Talk Monthly — September 2017
Editor's Note: The following first appeared in the University of Iowa's Hawk Talk Daily, an e-newsletter that offers a daily look at the Iowa Hawkeyes, delivered free each morning to thousands of fans of the Hawkeyes worldwide. To receive daily news from the Iowa Hawkeyes, sign up HERE.
By JACK ROSSI
hawkeyesports.com
IOWA CITY, Iowa — After qualifying for the NCAA Championships in 2016 for the first time in 15 years the University of Iowa rowing team continues to groom its future.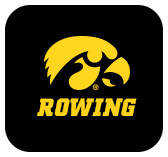 The Hawkeyes race in the Head of the Des Moines today on the Des Moines River. It will be Iowa's first competitive race of the fall and will serve as the first taste of a regatta for many of the young student-athletes, many of whom have never been on a rowing team before.
 
UI head coach Andrew Carter and his staff send five boats, all novices, to Des Moines, including the novice 4+ and novice 8+ boats, leaving the upperclassmen behind and allowing as many of the younger women as possible to experience a regatta atmosphere.
 
"We want to give these women every opportunity early on to give this a serious try," Carter said. "We are patient with them in their development in the first month or two, but also want to give them a taste of the racing.
 
"If we sent our entire squad over there then we wouldn't be able to expose novices to racing as we otherwise would. Even if we don't have them slotted for racing, we are taking them with to see what it is like to be at a regatta."
 
While not overly competitive, the fall racing season is important to use as a springboard for the spring season. Instead of a traditional lineup and race format, the style during the fall season is a time-trial where it is a single-file chase format.
 
"I'd like for them to be excited about having the Tigerhawk on their shirt and representing the University of Iowa in a new way," Carter said. "I want them to safely get down the course and be the most competitive group out there, but most importantly, have an outstanding time, so they can come back and do it at a higher level and join in with the momentum the returners have."
 
While the novice's race for the first time, many returnees have been hard at work to repeat as NCAA qualifiers, including working with US Rowing.
 
"A staff was organized with the cooperation of US Rowing to host an under-23 development camp this summer, which enabled the women to train throughout the summer," Carter said. "That was one of the things that really hasn't been done before and they made huge gains. Most years they trained on their own."
 
While a core group of about 25 women remained in Iowa City, other student-athletes traveled back home to compete with their home rowing programs
 
"We had one student-athlete compete with British Columbia at the Canada Games," Carter said. "Another one was back in the Netherlands training with a U-23 track. Things like this have helped everybody come into this fall in better position than they ever have."
 
The Hawkeyes race in the Women's Collegiate Novice 4+ at 10:05 a.m. (CT) and the Women's Collegiate Novice 8+ at 2:05 p.m. Live results are available on the Iowa rowing page at hawkeyesports.com.