Hawkeye Fan Shop — A Black & Gold Store | 24 Hawkeyes to Watch 2016-17 | Fight For Iowa | Hawk Talk Monthly — September 2017
Douglas, van Heuvelen Split Matches at ITA Championships
 
MALIBU, Calif. — Two University of Iowa senior Zoe Douglas and sophomore Elise van Heuvelen each split a pair of matches in the pre-qualifying singles bracket of the ITA All-American tournament Saturday in Malibu, California.
 
No. 117 Van Heuvelen defeated Elpida Malamou of Western Kentucky in her first round, 6-3, 4-6, 6-0, but was eliminated from the tournament in round two by No. 104 Wendy Zhang, 6-1, 6-2.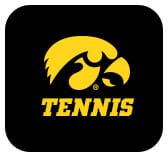 No. 92 Douglas grabbed a first-round win over Madison Westby, 7-5, 5-7, 6-4, and fell in the second round to No. 102 ranked Fatima Bizhukova in a three-set tie breaker.  
 
Douglas and van Heuvelen, ranked No. 42 in the ITA preseason poll, will be back in action in the doubles qualifying bracket on Tuesday at 11 a.m. (CT) in Pacific Palisades, CA at the Riviera Tennis Club.
 
 
ITA ALL AMERICAN SINGLES PRE-QUALIFYING
 
Elise van Heuvelen (Iowa) def. Elpida Malamou (Western Kentucky): 6-3, 4-6, 6-0
Wendy Zhang (Rice) def. Elise van Heuvelen (Iowa): 1-6, 2-6
 
Zoe Douglas (Iowa) def. Madison Westby (USC): 7-5, 5-7, 6-4
Fatima Bizhukova (Wichita St.) def. Zoe Douglas (Iowa): 6-4, 3-6, 0-6