Hawkeye Fan Shop — A Black & Gold Store | 24 Hawkeyes to Watch – 2017-18 | Fight For Iowa | Hawk Talk Monthly — October | Photo Gallery | Complete Results (PDF)
IOWA CITY, Iowa — The University of Iowa swimming and diving program won 23 total events to send the Hawkeyes to three dual victories on Friday at the Campus Recreation and Wellness Center.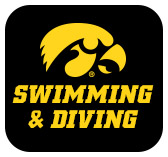 The Hawkeye men posted a Big Ten dual victory over Michigan State (195-100), while the Iowa women downed Michigan State (189-108) and Northern Iowa (184-113).
 
Six Hawkeyes posted multiple victories on the men's side — Michal Brzus, Michael Tenney, Kenneth Mende, Jerzy Twarowski, Jack Smith, and Joe Myhre all posted two wins on the day. Thomas Rathbun also recorded a win, finishing first in the 200 back (1:49.02), along with Daniel Swanepoel in the 200 breast, touching in at 2:04.77.
 
On the women's side, Hannah Burvill and Mekenna Scheitlin won multiple events. Burvill won the 200 free, 100 free, 500 free, and the 400 freestyle relay. Sheitlin posted wins in the 200-medley relay and 400 freestyle relay. Other Hawkeye winners include Abbey Schneider (1,000 free), Tereysa Lehnertz (200 fly), and Kelly McNamara (100 fly).
 
In the diving well, the Hawkeyes had student-athletes — Anton Hoherz, Will Brenner, Matt Mauser, Jonatan Posligua, Jacintha Thomas, Thelma Strandberg, Morgan Rafferty, and Jayah Matthews — post NCAA diving standards in their first competition of the season.
 
On the women's side, Thomas won the 1-meter with a career-best score of 307.60 — the seventh-best score in school history, while Mathews took her first career win off the 3-meter with a 315.00 — a performance that ranks 10th all-time. Both divers posted qualifying standards off both the 1-meter and 3-meter.
 
On the men's side, Hoherz dove to victories with NCAA standards off the 1-meter (340.50) and 3-meter (374.90). The 3-meter score is fourth in school history, while 1-meter ranks seventh. Brenner also posted zone marks off both boards, finishing as runner-up in both events.
 
MEN'S ATHLETE OF THE MEET
Sophomore Joe Myhre won two events — the 200 free (1:40.04) and 100 free (44.82). Myhre was also a part of the winning 200-medley and 400-free relays.
 
WOMEN'S ATHLETE OF THE MEET
Sophomore freestyler Hannah Burvill won four events. To start the meet, Burvill touched in at 1:49.83 to win the 200 free and she followed that up with victories in the 100 free (50.67) and 500 free (4:56.81). Burvill also placed first as part of the 400-free relay.
 
QUOTING HEAD COACH MARC LONG
"We got the victory, now we can go back and analyze to keep getting better and better. I like the heart and racing today. The other teams came in here and had great performances. Mekenna Scheitlin and Hannah Burvill had great performances on the women's side, and Joe Myhre stood out as well. We can see things coming together nicely. Our newcomer divers are coming together as well. This early in the season, it is encouraging."
 
UP NEXT
The Hawkeyes return to action Oct. 27, hosting Minnesota at the CRWC. Meet time is scheduled for 5 p.m. (CT).
 
FOLLOW THE HAWKEYES
For an inside look at the Iowa swimming and diving program and access to exclusive coverage, "like" Iowa Swimming and Diving on Facebook and follow @IowaSwimDive on Twitter and @hawkeyeswimdive on Instagram.