Hawk Talk Monthly — October | Fight For Iowa
Editor's Note: The following first appeared in the University of Iowa's Hawk Talk Daily, an e-newsletter that offers a daily look at the Iowa Hawkeyes, delivered free each morning to thousands of fans of the Hawkeyes worldwide. To receive daily news from the Iowa Hawkeyes, sign up HERE.
By JAMES ALLAN
hawkeyesports.com
IOWA CITY, Iowa — The University of Iowa soccer team is back in the Big Ten Tournament chase.
 
The Hawkeyes posted back-to-back league shutouts for the first time in four seasons last weekend at the Iowa Soccer Complex, downing No. 23 Rutgers and Maryland to move up in the Big Ten Conference standings.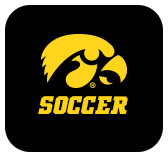 Iowa (7-5-1, 2-3-1) has seven points and sits in 10th place in the league with five regular season games remaining. Nebraska and Michigan are tied for eighth with nine points; the top eight teams in the standings advance to the conference tournament.
 
"We knew we needed these points," said sophomore Devin Burns, who scored two goals and added an assist in the two matches. "If we didn't get these points, we would be out or scratching to get into the Big Ten Tournament.
 
"This was an important weekend to show ourselves who we are and what we can do."
 
After starting the conference slate with three consecutive losses, Iowa head coach Dave DiIanni saw the Hawkeyes come to life during the team's road trip to Michigan. The Hawkeyes earned their first league point with a draw against the Wolverines, but were on the wrong end of a 3-2 setback at Michigan State.
 
"We've been playing good soccer for a couple of weeks," said DiIanni. "We didn't get as many points as we should have during the weekend in Michigan, but we felt good about how we played."
 
That performance carried over into the latest home stand, when the Hawkeyes knocked off 23rd-ranked Rutgers, 1-0, on Oct. 5.  Burns' second-half goal gave Iowa its first victory over a ranked opponent since 2014 and the team followed with four goals — the most in a league game since 2011 — in a 4-0 victory over Maryland.
 
Iowa has scored nine goals over its last four games and is out-shooting its opponents, 68-36.
 
"Getting those two victories was huge," said sophomore Natalie Winters. "We get to go into this weekend with a lot of energy and with our confidence high. It gives us a big boost."
 
The Hawkeyes head to Indiana to face the Hoosiers on Thursday and Purdue on Sunday.  The Hoosiers are 12th in the Big Ten with five points, and the Boilermakers are fourth with 13 points. 
 
Iowa and Nebraska are the only teams with five regular season games remaining because of the postponement of their Sept. 15 matchup.  Two of the Hawkeyes' five games are at home.
 
"We're back in the mix," said DiIanni. "There are a lot of teams fighting for those last four or five spots in the Big Ten Tournament, so I think the urgency alone is going to bring the best out of our kids.
 
"People are losing games all over the place in our conference. It's about being consistent and (against Rutgers and Maryland) we were. Hopefully that parlays into our Indiana trip."
 
Thursday's game will begin at 6:30 p.m. (CT) from Bill Armstrong Stadium. The game will be streamed live on BTN Plus on BTN2Go.