Hawkeye Fan Shop — A Black & Gold Store | Fight For Iowa | Hawk Talk Monthly — October
Editor's Note: The following first appeared in the University of Iowa's Hawk Talk Daily, an e-newsletter that offers a daily look at the Iowa Hawkeyes, delivered free each morning to thousands of fans of the Hawkeyes worldwide. To receive daily news from the Iowa Hawkeyes, sign up HERE.
By MATT WEITZEL
hawkeyesports.com
IOWA CITY, Iowa — There is a palpable buzz surrounding the University of Iowa men's basketball program with players, coaches, and fans eager for the start of the 2017-18 season.
 
Fran McCaffery, who enters his eighth season as Iowa's head coach, is 12 wins from career win No. 400. He has led the Hawkeyes to 18 victories or more the last six seasons and 10 or more conference wins each of the past three seasons.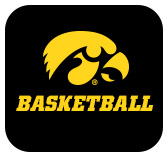 Iowa returns 77 percent of its offense from last year's squad that finished fifth in the Big Ten. Nearly half of Iowa's offensive production a year ago came from talented freshmen Jordan Bohannon, Tyler Cook, Isaiah Moss, and Cordell Pemsl.
 
Bohannon had a historic season directing the offense as a true freshman, earning All-Big Ten Freshman Team honors while averaging 10.9 points and 5.1 assists. The native of Marion, Iowa, became one of only two players in the country over the last 25 years to post 175 assists and 85 3-pointers as a rookie. McCaffery says Bohannon will see time at both guard positions as a sophomore.
 
"Jordan will be at point the majority of the time, but I like the opportunity to run set plays for him as a two-guard because of how well he shoots the ball," said McCaffery.
 
Moss, who averaged 6.5 points last year, is Iowa's other returning backcourt starter. McCaffery believes his confidence is at a new level and that Moss is ready to take off.
 
"Isaiah is looking for his shot and is more aggressive to the basket," McCaffery said. "Whatever the situation calls for, that's what he's doing, and that's the maturity you're seeing in his game. He has to be a guy who plays with confidence and understands that there are times where he needs to take over."
 
Other Hawkeyes in the mix on the perimeter include Christian Williams, Brady Ellingson, and Maishe Dailey.
 
"Christian and Brady played a lot the last couple years and are versatile veterans," said McCaffery. "Maishe is the X-Factor because he hasn't played much, but he is talented and has shown improvement."
 
Many feel Iowa's biggest strength will be versatility and frontcourt depth. McCaffery believes this team has the most length and is the deepest he has ever coached.
 
"All of our post players can score in a variety of ways," McCaffery said. "We'll take advantage of that because they're all different. From a defensive standpoint, we have rim protectors, physicality, and we can keep fresh legs out there that should impact our ability to defend for 40 minutes."
 
Tyler Cook averaged 12.3 points and 5.3 rebounds as a freshman power forward, earning All-Big Ten Freshman Team accolades. Cook finished his rookie campaign making his final 18 field goal attempts, spanning Iowa's final three games. Like Moss, McCaffery believes a year of experience has helped Cook's confidence and decision-making.
 
"Tyler is still physical and strong," said McCaffery. "He scores extremely well in the post, but his shot has improved from midrange and that will help him."
 
Part-time starters Ahmad Wagner and Pemsl return for their junior and sophomore seasons, respectively. Wagner started 18 games, while Pemsl was in the starting rotation 14 times. Pemsl averaged 8.9 points and five rebounds, and broke the school's field goal percentage record, making 61.7 percent of his attempts as a freshman. Wagner was the recipient of the team's Kenny Arnold Spirit Award after ranking third on the team in blocked shots (14), fourth in steals (27), and fifth in assists (46).
 
But who starts is not as important to McCaffery as who is on the floor at the end of games.
 
"Last year was indicative of that because there were a number of times where we had different lineups on the floor and a lot of times there were lineups you wouldn't expect playing together at the end of the game," McCaffery said. "Depending upon who is playing well, how teams are defending us, and who is healthy at the time, there will be different lineups out there."
 
Iowa has two upperclassmen on the roster, senior Dom Uhl and junior Nicholas Baer, both versatile forwards. Last year, Baer was voted Big Ten Sixth Man of the Year and became the only Big Ten player over the last 25 years to amass 250 points, 40 blocked shots, 45 steals, and 45 3-pointers in a season. Uhl is playing the best basketball of his life as he enters his final season.
 
"Nicholas is the leader of this team," said McCaffery. "He talks and his teammates have respect for him. Even though Dom's quiet, people respect him because he's solid in everything he does."
 
Other bigs who will have a significant impact include sophomore Ryan Kriener, and freshmen Luka Garza and Jack Nunge. Garza joins the Hawkeyes after being named the 2017 Gatorade D.C. Boys Basketball Player of the Year, while Nunge was a finalist for Mr. Basketball in the state of Indiana.
 
"Ryan fits perfectly into what we want to do," McCaffery said. "He's a physical big who runs the floor and can score facing the basket or with his back to the basket. He's good at defending ball screens and is a rim protector.
 
"Luka and Jack are multi-dimensional players. They can dribble, pass, and shoot. They can score both inside and out, they both run the floor, and they're incredibly unselfish. Both rebound the ball, can protect the rim, and are physically ready to go."
 
Going through the 18-game Big Ten schedule is a grind, but McCaffery believes this team has the mental makeup to go through the highs and lows to compete for a championship.
 
"It helped us last year to start slow and then have the pressure to finish the way we did," said McCaffery. "We had to figure out the importance of playing both ends and the importance of getting quality play from so many different people. You get excited when you see young guys figure it out, compete, improve, stay together, and remain confident."
 
Iowa will play seven games away from Carver-Hawkeye Arena the first two months of the season. McCaffery likes the makeup of this team to navigate through the early tests on the schedule. 
 
"I believe we are ready for that challenge," McCaffery said. "We have to be ready to be able to play mistake-free basketball early in the season on the road. That's what championship-caliber teams do. That's what NCAA Tournament teams do."