Hawkeye Fan Shop — A Black & Gold Store | Fight For Iowa | Hawk Talk Monthly — October
Editor's Note: The following first appeared in the University of Iowa's Hawk Talk Daily, an e-newsletter that offers a daily look at the Iowa Hawkeyes, delivered free each morning to thousands of fans of the Hawkeyes worldwide. To receive daily news from the Iowa Hawkeyes, sign up HERE.
By JAMES ALLAN
hawkeyesports.com
IOWA CITY, Iowa — When Nicholas Baer joined the University of Iowa men's basketball team, he had a simple goal: prove his value.
 
It wasn't a new mission for Baer, a walk-on from Bettendorf, Iowa.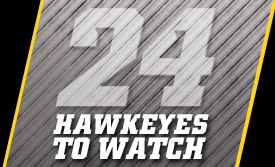 "In high school, we prided ourselves on doing small things that were big things," said Baer, a redshirt junior forward. "That was taking charges, diving on the floor for loose balls, and winning 50-50 balls.  I always had that growing up in the Bettendorf culture and that has paid dividends at Iowa."
 
Iowa head coach Fran McCaffery heard of Baer while he was starring at Bettendorf High School, but he didn't get an in-person glimpse until the 2014 Iowa High School State Basketball Tournament.  Baer's Bettendorf team was facing Iowa City West and McCaffery's son, Connor, in the state semifinals.
 
"It was a terrific game, he was the leading scorer and played well," said McCaffery. "It was an intense game. There was a lot of pressure and he seemed to excel under pressure.  That is what impressed me most."
 
Baer finished that state tournament contest with 22 points and 13 rebounds. It was the final game of his senior season, where he was the Mississippi Athletic Conference Player of the Year after averaging 15.2 points, 9.1 rebounds, 2.2 blocks, 1.5 steals, and 1.5 assists.
 
That senior year stat line was a precursor to Baer's value as a Hawkeye.
 
Iowa offered a walk-on opportunity; Division II Northwest Missouri State was his lone scholarship opportunity.
 
"I decided I wanted to come (to Iowa)," said Baer. "This place has always had a pull on me. I always wanted to come here, growing up around here, and being an Iowa fan. I am happy to say it is the best decision I ever made."
 
Baer made an impression during one of his first open gyms in Iowa City. It was June during a normal pick-up game; Baer was competing with what came off as a March Madness-like effort.  
 
"I wanted to establish myself as not just another walk-on or another guy they throw in randomly," said Baer. "I tried to assert myself to show I had value and that I can compete at this level.  If that was diving on the floor, that's what it took.
 
"From there, that laid the foundation for what I have tried to do here."
 
Baer redshirted during his first season to get stronger and learn Iowa's offense. A year later, he was a key reserve on a 22-win team, appearing in all 33 games, averaging 4.8 points and 2.6 rebounds.  His coming out party came in December at Wells Fargo Arena when he scored 13 points, grabbed seven rebounds, and blocked an arena-record six shots in a victory over Drake.
 
The spring following Iowa's NCAA Tournament run, two scholarships opened on Iowa's roster. From that point, Baer was no longer a walk-on. He earned a scholarship.
 
As a sophomore, Baer was one of Iowa's most important players.  He earned Big Ten Sixth Man of the Year honors and he earned team awards for Best Defensive Player, Best Rebounder, and Academic Excellence.
 
His 7.5 points per game ranked fifth on the team, but it was everything else Baer did that made him so valuable. He was the only Division I player and the only Big Ten player in the last 25 years to amass 250 points, 45 steals, 45 3-pointers, and 40 or more blocks in a season.
 
That versatility makes Baer special.
 
"It's something I try to do every game," said Baer. "You don't try to key on one thing. Everybody likes to focus on scoring, but there are multiple ways to impact a game. I am proudest when I touch a lot of different areas of the game, whether that be assists, blocks, steals, rebounds, or points. If I can get my hands on a little bit of everything, I think that's a good game."
 
McCaffery said fans are going to see an improved version of Baer in 2017-18.
 
"Last year when he was coming off the bench, he was going to come in and not make any mistakes, and he was going to energize the team," said McCaffery. "He could do it with his scoring, rebounding, passing, and tenacity.
 
"This year you're going to see a different Nicholas Baer. You'll see someone that is more aggressive offensively; he has shot the ball well from 3 the last two years, but I think he's shooting it better now. He's also attacking the rim more and making more plays off the dribble.
 
"I think he'll be that much more impressive."
 
Shots are going to be there for the taking in Iowa's offense following the graduation of 20-point-per-game scorer Peter Jok.  Baer says it will be a team effort to replace Jok; he sees Jordan Bohannon, Isaiah Moss, and Brady Ellington stepping up.
 
Baer wants to continue being Baer.
 
"I am going to keep doing what I have been doing," he said. "It has been working for me and this team. I'll shoot when I am open, but if I am not, I'll create for others."
 
Baer will create and provide the team with a spark.
 
"There is a great deal of value in being a high-energy player and understanding what role I can play on a team and how that energy impacts a game and season," he said. "In a game, you can feel it and it isn't exclusive to me.
 
"When Ahmad (Wagner) or Tyler (Cook) makes an energy play or gets a big offensive rebound, they ignite the crowd and our team as well. Whenever we can make energy defensive plays or small hustle plays, it can provide a spark for our team and the crowd."
 
Those are Baer-type plays. The ones where Baer proves his value.