Hawkeye Fan Shop — A Black & Gold Store | 24 Hawkeyes to Watch 2016-17 | Fight For Iowa | Hawk Talk Monthly — September 2017
IOWA CITY, Iowa – The University of Iowa women's tennis team is headed to Lawrence, Kansas, this weekend to play in the ITA Central Regionals beginning Thursday at Jayhawk Tennis Center at Rock Chalk Park.
 
Seniors Zoe Douglas and Anastasia Reimchen are returning to the tournament for the third time. Douglas is 3-3 in singles and 3-2 in doubles, while Reimchen is 3-4 in singles and 2-3 in doubles.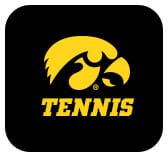 "I like this tournament because it is one of the only individual big draw tournaments," said Douglas. "You have a chance to play different teams that you wouldn't get the chance to play throughout the conference season. It is exciting to play different people, to get a good mix and compete against some of the best people in the region."
 
"I've been working a lot on doubles since I've come back, and I just need to focus on the right things," said Reimchen, who is undefeated in doubles this fall. "Last year doubles was not my greatest success, but I have definitely improved. If I keep listening to what the coaches tell me to do on the court, I will do well."
 
University of Iowa head coach Sasha Schmid thinks the team has shown improvement halfway through the fall season, and is finding a groove that will help them continue to grow individually and as a team.
 
The Central Regional tournament is the fourth tournament on the Hawkeyes' fall schedule, but the first time the entire roster is entered in the tournament field. Schmid expects it to be a test.
 
"The regionals are great because it features the best players in our region," said Schmid. "There are not many other Big Ten teams in our region, so during conference play we don't get many chances to play other regional players."
 
The singles and doubles Central Regionals champions automatically qualify for the Oracle National tournament in Indian Hills, California, on Nov 1-5. There are also two ITA Wild Cards for singles and doubles as well as 21 at-large singles and 10 at-large doubles selections for the Oracle Nationals.
 
Follow the Hawkeyes on hawkeyesports.com and at ita.com