Hawkeye Fan Shop — A Black & Gold Store | 24 Hawkeyes to Watch – 2017-18 | Fight For Iowa | Opening Remarks from Coach Ferentz
By DARREN MILLER
hawkeyesports.com
IOWA CITY, Iowa — Six pieces of the football puzzle have been put together for the University of Iowa which embarks on the second half of the season Saturday at Northwestern.
 
The Hawkeyes are 4-2 overall (1-2 in the Big Ten) after the first six weeks. They have split the last 10 meetings against Northwestern. The Wildcats, who won 38-31 last season in Kinnick Stadium, are 3-3, 1-2.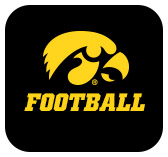 Northwestern is an experienced team with 16 juniors or seniors in the starting lineup.
 
"Typical of Northwestern, you pretty much know what to expect," Iowa head coach Kirk Ferentz said Tuesday at his weekly news conference in the Stew and LeNore Hansen Football Performance Center. "They're a good football team, they have good players. This is a veteran Northwestern team. They're very well-coached, play hard start to finish, and like you would expect, it's going to be a 60-minute game."
 
Ferentz complimented Wildcat quarterback Clayton Thorson (60.4 completion percentage) and running back Justin Jackson (510 rushing yards, 21 pass receptions).
 
"(Thorson) has matured into an outstanding football player. He's a top-notch guy and has done a good job," Ferentz said. "(Jackson) is one of the best backs to play in our conference and I think all of us saw Saturday the kind of back he is and what he's capable of doing. Sounds like a tremendous young man. From that standpoint, we have a big challenge on our hands."
 
While Iowa had a bye Oct. 14, Northwestern traveled to Maryland and won, 37-21. Jackson ran the ball 28 times for 171 yards and two touchdowns, Thorson completed 27-of-49 passes for 293 yards and a touchdown.
 
Ferentz said the Hawkeyes made strides in the first half of the season and many of their veteran players were at the top of their game against a competitive schedule. He is pleased that the team gained 11 takeaways in six games.
 
Iowa looks for a spark in its running game (138.7 yards per game and 3.7 yards per carry) and ball security (nine lost fumbles, two interceptions). Ferentz also wants to see more consistent and sharper execution.
 
"Those are the things that give you a chance to win, and those are the things that keep you from losing," Ferentz said. "Really, nothing too earth-shaking."
 
Iowa won the last meeting at Ryan Field, 40-10, behind Akrum Wadley's 204 rushing yards and four touchdowns.
 
"It was the first time he looked like he got it," Ferentz said. "He has always shown flashes of ability prior to that, but just protecting the football and realizing that's part of the game."
In personnel news, senior running back James Butler practiced for the first time Tuesday since being sidelined with an elbow injury against North Texas on Sept. 16. Butler will not play at Northwestern.
 
Kickoff on Saturday is at 11 a.m. (CT). The game will be televised on ESPN2.