Hawkeye Fan Shop — A Black & Gold Store | Fight For Iowa | Hawk Talk Monthly — October
Editor's Note: The following first appeared in the University of Iowa's Hawk Talk Daily, an e-newsletter that offers a daily look at the Iowa Hawkeyes, delivered free each morning to thousands of fans of the Hawkeyes worldwide. To receive daily news from the Iowa Hawkeyes, sign up HERE.
By RICK BROWN
hawkeyesports.com 
IOWA CITY, Iowa — Cordell Pemsl said goodbye to two close friends over the summer. Their names were popcorn and Sprite, the snacks of choice for the 6-foot 8-inch sophomore forward on the University of Iowa men's basketball team.
 
Sprite? It was Pemsl's go-to drink.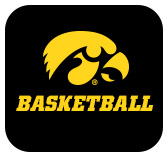 "My favorite pop," Pemsl said.
 
And popcorn?
 
"I love popcorn," Pemsl said.
 
But starting in May, following sports hernia surgery, Pemsl decided it was a time to become dedicated to a healthier diet.
 
"After the surgery I didn't want to be pushed back too far by getting overweight or being too slow," Pemsl said.
 
He had tried a new approach to diet in the past, but got frustrated by the lack of results after a few weeks and gave it up. But Pemsl stuck to his guns this time.
 
"Now I understand that diet really matters," Pemsl said. "I'm eating a lot more protein. I'm cutting out a lot of (carbohydrates). I'm still maintaining a healthy routine for my meals."
 
Sprite has been replaced by water for the most part, with some protein drinks or milk mixed in. Salads are a part of every meal. Every few weeks he'll allow himself some popcorn, but he's fit and in fine form. The Cordell Pemsl who hit 252 pounds on the scale at the end of the 2016-17 season was at 234 pounds on Monday.
 
"This is the best I've felt since I was a sophomore in high school (at Dubuque Wahlert)," Pemsl said. "I'm moving better, jumping better, and I'm quicker doing everything that I used to be able to do before all the injuries. Even this last surgery, I didn't know how long it would take, but I was back the first day of practice, and I was doing everything. I haven't had any problems since, knock on wood. I'm hoping that continues."
 
Pemsl and surgery have been joined at the hip. There were a couple of knee surgeries in high school, and then the hernia surgery in May that kept him from playing on the Hawkeyes' four-game European Tour in August. 
 
"He's playing the best basketball I've ever seen him play," Iowa head coach Fran McCaffery said. "He's a lot thinner. A lot of times, when guys trim down like that they don't maintain the strength they had, or the physicality. He has done both. He still plays strong, tough, and physical. He's able to hold his ground against guys that are heavier than him. He's running better."
 
Pemsl played in 34 games as a true freshman, making 14 starts. He averaged 8.9 points, five rebounds, and 19.3 minutes a game even though the hernia injury bothered him at times.
 
"I tried to forget about it and not have it bother me, but it was always in the back of my mind," Pemsl said.
 
When he'd go to the bench, and the adrenaline wore off, he could feel it.
 
"I didn't want it to take away from my play and put us at a disadvantage when I was on the floor so I played through it," Pemsl said. "But since I've had the surgery, this is the best I've felt."
 
Pemsl is part of a deep and talented frontcourt for the Hawkeyes.  Also there are Nicholas Baer, the Big Ten's reigning Sixth Man of the Year, along with Tyler Cook, Ryan Kriener, Ahmad Wagner, Dominique Uhl and freshmen Jack Nunge and Luka Garza.
 
The competition for minutes has already been intense in practice.
 
"With a lot of teams there could be guys butting heads, and you'd get guys not liking each other just because of the minutes and who is playing over who," Pemsl said. "But with these guys, everyone wants to see the guy next to them succeed. Every day in practice, going against Ryan, Luka, Jack, Tyler, Dom, Ahmad, you get used to not only playing against them, but playing with them, and understanding how guys can be successful on the floor at the same time.
 
"Every day is competitive for us. Everyone is pushing each other. That's only going to help us succeed as a team as the season goes on."
 
Pemsl said he didn't know what to expect last season as a freshman. Now he ha 655 minutes of experience under his belt. A belt that requires fewer notches than a season ago.
 
"That first year paved the path for me to know what I have to do to improve and be successful as a sophomore," Pemsl said.