Hawkeye Fan Shop — A Black & Gold Store | 24 Hawkeyes to Watch – 2017-18 | Fight For Iowa | Hawk Talk Monthly — October
Editor's Note: The following first appeared in the University of Iowa's Hawk Talk Daily, an e-newsletter that offers a daily look at the Iowa Hawkeyes, delivered free each morning to thousands of fans of the Hawkeyes worldwide. To receive daily news from the Iowa Hawkeyes, sign up HERE.
By JAMES ALLAN
hawkeyesports.com
IOWA CITY, Iowa — Anton Hoherz's love of diving and symphony make him a perfect fit at the University of Iowa. Both make him happy and, while diving receives most of his focus, music provides him a long-term balance.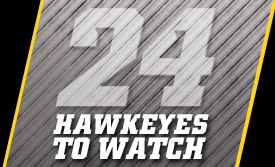 As a Hawkeye, Hoherz enjoys the complementary mix. He is a freshman on Iowa's swimming and diving team, who is pursuing a major in music.
 
It wasn't coincidence that led Hoherz from his hometown of Spring, Texas, to the Hawkeye State. Growing up, Hoherz visited Iowa City several times each year. His parents, Amy Jo and Jeff, grew up in the community and attended the University of Iowa. His grandparents still live in town.
 
That familiarity didn't stop Hoherz from looking around during the recruiting process. He considered five schools and took three official visits, but none of the trips gave him that Iowa City feeling.
 
"I loved the community and city," said Hoherz. "Everywhere else I looked, the cities felt unfriendly, but Iowa City is a friendly community. (Having family in town) made me more comfortable because starting school in a new city is different. It is nice to have family here."
 
Hoherz was a priority recruit for Iowa diving coach Todd Waikel because he is a diver with a national resume.
 
"He dives on all three levels," said Waikel. "He's a strong tower diver, is fearless, and spins fast.  Those are great attributes, things I don't have to teach."
 
Diving wasn't initially in the cards for Hoherz. He started in gymnastics at age 8 until he saw diving from afar during a stop at his local pool.
 
"I begged my parents to let me be in it," said Hoherz. "I quit gymnastics, started diving, and haven't looked back."
 
Hoherz rose quickly in the diving ranks, competing at national meets across the county. He was a six-time Junior Speedo/AT&T National qualifier off the 1-meter, 3-meter, and platform. He was a bronze medalist off the platform at the 2016 USA Diving Nationals and was a 3-meter finalist at the 2017 event.
 
At Oak Ridge (Texas) High School, Hoherz was a four-time All-American after placing in the top five in the state all four years. He was the 6A state runner-up as a junior and senior, and he broke his own school records each season, including a 597.00 off the 1-meter as a senior.
 
Waikel knows Hoherz's transition to Division I competition will be challenging, but he believes Hoherz's experience will make it as seamless as possible.
 
"When you come in as a freshman, your whole world gets turned upside down with a new coach, environment, friends, food, and classes," said Waikel. "That can be challenging. I think because he does have a lot of experience in diving that when he comes in a lot of these things that are new to a lot of people won't necessarily be new to him.
 
"That's one thing that can help him make the adjustment."
 
Hoherz's Hawkeye career got off to a promising start with victories off the 1-meter and 3-meter in Iowa's season-opening dual win over Michigan State. He was named the Big Ten Diver and Freshman of the Week on Oct. 11 after posting NCAA Zone Diving Standards off both boards, finishing with scores of 340.50 off the 1-meter and 374.90 off the 3-meter. Both scores rank in the top seven in school history.
 
Hoherz has big aspirations as a freshman. He wants to place at the Big Ten Championships, and qualify and place at the NCAA Championships.  For that to happen, Hoherz knows he must stick to the process.
 
"I need to focus on my goals, myself, and what I want," said Hoherz. "If I start thinking too far ahead or in the past, I'll get too nervous. I need to focus on what's happening in the moment."
 
That's where Hoherz's music background can lend a hand to his diving. It is a built-in stress relief.
 
"It gives me a nice break from everything," said Hoherz, whose music focus is viola performance. "It will help me take my mind off school or if something is bothering me, it will help me forget about that for a couple of hours."
 
Hoherz started playing the viola in fourth grade and it has been a staple in his life (alongside diving) ever since. Big picture, Hoherz wants to play in a professional symphony.
 
"In high school, I didn't know what I wanted to do with my life," said Hoherz. "I thought about a multitude of things and music was the only one I knew that would make me happy for the rest of my life.
 
"When I would watch professional orchestras, everyone would look so happy and into what they were doing. There was a mix of old and young and I loved that. I knew it was something that would make me happy."    
 
The Hawkeyes return to action Oct. 27, hosting Minnesota at 5 p.m. (CT) at the Campus Recreation and Wellness Center Natatorium.