Hawkeye Fan Shop — A Black & Gold Store | Fight For Iowa | Hawk Talk Monthly — October
Editor's Note: The following first appeared in the University of Iowa's Hawk Talk Daily, an e-newsletter that offers a daily look at the Iowa Hawkeyes, delivered free each morning to thousands of fans of the Hawkeyes worldwide. To receive daily news from the Iowa Hawkeyes, sign up HERE.
By JAMES ALLAN
hawkeyesports.com
NEW YORK — It's telling for the University of Iowa men's basketball team that a player with 98 career games under his collegiate belt is the forgotten piece in 2017-18.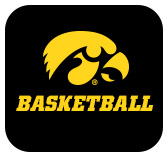 The optimism is high surrounding the Hawkeyes' loaded frontcourt with the return of forwards Tyler Cook, Ahmad Wagner, and Cordell Pemsl.  Add in freshmen Luka Garza and Jack Nunge and Iowa head coach Fran McCaffery has an abundance of weapons.
 
Don't forget about Iowa's lone senior, Dom Uhl.  He's a long 6-foot-9 player that McCaffery calls smart and tough and a player that has been through the wars.
 
"It's funny how a senior who has done as much as he has done is someone that everyone forgets," said McCaffery on Thursday at the 2018 Big Ten Basketball Media Day at Madison Square Garden.
 
Uhl has been a player in McCaffery's rotation since joining the team as freshman in 2014-15. He was named the team's Newcomer of the Year that first season and in three years, he has averaged 3.9 points and 2.9 rebounds in 98 career games.
 
As a sophomore, the Germany native was a key piece in Iowa's 22-win NCAA Tournament team, averaging six points and 3.6 rebounds.  He made a career-best 27 3-pointers and shot 45 percent from 3-point range.
 
But Uhl's junior campaign was a struggle. He made a career-high seven starts, but his role diminished. He averaged 3.5 point and 3.2 rebounds in 14.6 minutes per game and finished with a career-low 35.1 field goal percentage.
 
"That was one of the toughest years (of my basketball career)," said Uhl. "But you can learn from it and keep improving."
 
The struggles gave Uhl perspective. He kept his head up and went back to work.
 
"You have to stay ready all the time," said Uhl. "You can't get down on yourself. You have to continue playing hard."
 
"He has never complained one time, whether he doesn't play or if he plays a lot," said McCaffery.
 
That sounds like a player with a team-first attitude.  A player that would assume a role of as a team leader.  Uhl is a team co-captain along with redshirt junior Nicholas Baer.  He wants to be an example for a Hawkeye team that features 11 freshmen and sophomores. 
 
"I have been around for three years," said Uhl. "It's my turn to help lead this team."
 
He also wants to prove his worth on the defensive end. The Hawkeyes scored at will last season, averaging 80.5 points per game, but the team surrendered 78.1 points.
"I want to provide energy defensively," said Uhl. "Ahmad and I took on that task of leading the team on the defensive end this year.  We're versatile; we can guard multiple positions."
 
"If he can use his length and instincts the way he does, he's going to earn minutes," said Baer. "He can impact the game defensively and with his rebounding and shot blocking."
 
McCaffery liked what he saw from Uhl during the team's European Tour and it has carried over into the early stages of practice.
 
"The way he played this summer was spectacular," said McCaffery. "The way he has played in practice the first two weeks, it is the best he has played."
 
The nearly forgotten player is putting it together for one final ride.
 
"That's what you want when you have one senior," said McCaffery. "You want him to be playing the best basketball of his career. I am excited about Dom and the way he has played."
Iowa opens the 2017-18 season Oct. 27, hosting William Jewell College at 7 p.m. (CT) inside Carver-Hawkeye Arena in an exhibition contest.  Iowa's season opener is Nov. 10 against Chicago State.  Season tickets and select single-game tickets are available by calling the Iowa Athletics Ticket Office at 1-800-IA-HAWKS or visiting hawkeyesports.com.