Hawkeye Fan Shop — A Black & Gold Store | Fight For Iowa | Hawk Talk Monthly — October
By JAMES ALLAN
hawkeyesports.com
NEW YORK — Tyler Cook finished his freshman season with the University of Iowa men's basketball team almost on another planet.
 
If things go as planned for the Hawkeyes' 6-foot-9, 255-pound forward, that was just the beginning.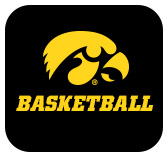 "My mindset is to be the best player I can be and to be the best player in the country," said Cook, who was one of Iowa's four representatives at the 2017 Big Ten Basketball Media Day in New York City. "Having that experience (as a freshman) is priceless. I have been here, I know what to expect, and now I can focus on going out and being the best player I can be."
 
Cook finished his inaugural season as the team's second-leading scorer, averaging 12.3 points and 5.3 rebounds. He shot 55.4 percent from the field and posted a pair of double-doubles en route to being named to the Big Ten All-Freshman Team.
 
He closed out that first season by making his final 18 shot attempts. He made his final four field goals against Indiana in the Big Ten Tournament before going 8-for-8 and 7-for-7 in the NIT. He finished with 18 points and eight rebounds in a win over South Dakota and 16 points and five rebounds against TCU.
 
It was a good freshman season and a step in the right direction, but Cook was not satisfied. He made the practice facility inside Carver-Hawkeye Arena his summer home, honing his offensive repertoire.
 
"He's shooting the ball better to the point where guys aren't going to be able to sag off of him," said sophomore Cordell Pemsl. "Guys are going to have to have a hand up anywhere on the court."
 
Cook was a highlight waiting to happen as a rookie. He would take the ball to the rim for a thunderous dunk from anywhere and against anyone. It's that jump shot that will make Cook a more complete player.
 
"When guys start having to respect his jump shot, it's going to make his life so much easier," said junior Ahmad Wagner. "With his frame, size, speed, athleticism, he wants to go by you and dunk. Now he doesn't care and it doesn't matter.
 
"If you're backing off, it's an easy jump shot for him. He's going to be tough to guard."
 
Cook finished in double figures in 19 games as a freshman, including 10 of the final 13 games down the stretch.  Redshirt junior Nicholas Baer sees the collegiate game slowing down for Cook.
 
"He's playing at a slower pace and isn't rushed," said Baer. "We're going to be running stuff for him because he's one of our best low-post scorers and he'll draw a lot of attention from opposing defenses.
 
"We need to be able to get him the ball and when we really need a basket, we know we can go to Tyler. We'll see how it pans out, but we know we have a big force on the inside."
 
The Hawkeyes open the 2017-18 season Oct. 27, hosting William Jewell College at 7 p.m. (CT) inside Carver-Hawkeye Arena in an exhibition contest.  Iowa's season opener is Nov. 10 against Chicago State.  Season tickets and select single-game tickets are available by calling the Iowa Athletics Ticket Office at 1-800-IA-HAWKS or visiting hawkeyesports.com.