Hawkeye Fan Shop — A Black & Gold Store | Fight For Iowa | 24 Hawkeyes to Watch 2016-17 | Hawk Talk Monthly — September 2017
LAWRENCE, Kansas — University of Iowa senior Zoe Douglas defeated No. 13 seed Caroline Ryba of Minnesota, 6-1, 6-1, on Saturday to advance to the quarterfinals at the ITA Central Regionals in Lawrence, Kansas.
 
Douglas, the No. 6 seed in singles, also picked up a win in doubles. She and sophomore Elise van Heuvelen defeated Koch and Toran Ribes of Kansas, 8-6, to move on to the quarterfinals, but dropped the match to Babic and Blanco of Oklahoma State, 8-6.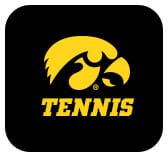 Adorabol Huckley and Yufei Long lost in the doubles round of 16 to Jurasic and Oparenovic of Arkansas, 8-4. 
 
Three Hawkeyes played in extra singles matches that were added to the tournament on Saturday. Senior Montana Crawford defeated Carla Martorell of Kansas, 6-4, 7-6 (7-3). Danielle Burich dropped her extra match in a three-set tie-breaker to River Hart of Minnesota, 6-2, 7-6 (7-3) and Danielle Bauers lost hers to Annemarie Emme of Minnesota, 6-1, 6-4.
 
Douglas will play in the quarterfinals on Saturday at 12:30.  
 
Follow along live at kuathletics.com.
 
HEAD COACH SASHA SCHMID:
"Zoe played well all day today in both doubles and in singles. I'm so proud of the way she is representing Iowa tennis. She is focused and competing really well, and she needs to do the same tomorrow. Babic is a great player and I know Zoe is confident and excited about the opportunity to compete again tomorrow."
 
SINGLES — ROUND OF 128 (# indicates tournament seed)
Marta Bellucco (Wichita State) def. Anastasia Reimchen (Iowa): 6-3, 1-6, 6-2
#10 Elise van Heuvelen (Iowa) def. River Hart (Minnesota): 6-3, 6-3
#25 Yufei Long (Iowa) def. Alessandra Thompson (SEMO): 6-1, 6-1
 #19 Carolina Costamagna (Kansas State) def. Danielle Bauers (Iowa): 6-4, 6-2
 Montana Crawford (Iowa) def. Amber Policare (Kansas): 7-6, 4-6, 7-5
#6 Zoe Douglas (Iowa) def. Darby Rosette (Creighton): 6-3, 6-2
#24 Tina Kreinis (Minnesota) def. Danielle Burich (Iowa): 7-6, 6-4
#28 Gabriela Porubin (Wichita State) def. Adorabol Huckleby (Iowa): 6-4, 6-2
 
SINGLES – ROUND OF 64 
 #10 Elise van Huevelen (Iowa) def. Christie Brigante (Oklahoma): 6-4, 7-5
#25 Yufei Long (Iowa) def. Tess Herder (Drake): 6-1, 6-2
#6 Zoe Douglas (Iowa) def. Caitlyn Merzbacher (Minnesota): 6-1, 3-6, 7-5
#17 Margot Decker (Kansas State) def. Montana Crawford (Iowa): 6-0, 6-1
 
SINGLES – ROUND OF 32
#23 Nina Khmelnitckaia (Kansas) def. #10 Elise van Huevelen (Iowa): 6-0, 6-3
#3 Leolia Jeanjean (UA) def. #25 Yufei Long (Iowa): 6-0, 6-2
#6 Zoe Douglas def. #30 Tatum Rice (UA): 6-1, 6-2
 
SINGLES – ROUND OF 16
 #6 Zoe Douglas (Iowa) def. #13 Caroline Ryba (UM): 6-1, 6-1
 
SINGLES – QUARTERFINALS (SUNDAY)
#6 Zoe Douglas (Iowa) vs. #2 Vladica Babic (OSU)
 
CONSOLATION SINGLES – ROUND 1
Anastasia Reimchen (Iowa) def. Yana Grenchkina (UMKC): 6-2, 6-1
Danielle Bauers (Iowa) def. Alye Darter (MSU): 6-0, 7-5, 12-10
Sandra Maletin (BU) def. Danielle Burich (Iowa): 6-1, 2-6, 10-8
Adorabol Huckleby (Iowa) def. Karyna Bihel (UM): 7-5, 6-7, 12-10
 
CONSOLATION SINGLES – ROUND 2
Anastasia Reimchen (Iowa) def. Carla Martorell (KU): 6-2, 6-3
Cassie McKenzie (SLU) def. Danielle Bauers (Iowa): 7-5, 6-1
Adorabol Huckleby (Iowa) def. Joely Lomas (DU): 7-5, 6-3
 
CONSOLATION SINGLES – ROUND 3
Mackenzy Middlebrooks (MU) def. Anastasia Reimchen (Iowa): 6-3, 6-4
Kseniya Zonova (SEMO) def. Adorabol Huckleby (Iowa): 6-1, 6-4
 
EXTRA SINGLES
Montana Crawford (UI) def. Carla Martorell (KU), 6-4, 7-6 (7-3)
River Hart (UM) def. Danielle Burich (UI), 6-2, 7-6 (7-3)
Annemarie Emme (UM) def.  Danielle Bauers (UI), 6-1, 6-4
 
DOUBLES – ROUND OF 64
Reimchen/Crawford (Iowa) def. Brandt/Wijesinghe (BU): 8-4
Huckleby/Long (Iowa) def. Nylund/Lazarevic (USD): 8-4
Douglas/van Heuvelen (Iowa) def. Torrico/Bosechen (MSU): 8-4
Decker/Turco (Kansas State) def. Burich/Bauers (Iowa): 8-1
 
DOUBLES – ROUND OF 32 
Laskutova/Matoula (TU) def. Reimchen/Crawford (Iowa): 8-2
Huckleby/Long (Iowa) def. Brigante/Sethi (OU): 8-3
Douglas/van Heuvelen (Iowa) vs. Herder/Petushkova (DU): 8-2
 
DOUBLES – ROUND OF 16
Jurasic/Oparenovic (UA) def. Huckleby/Long (Iowa): 8-4
Douglas/van Heuvelen (Iowa) def. Koch/Toran Ribes (Kansas): 8-6
 
DOUBLES – QUARTERFINALS
Babic/Blanco (OSU) def. Douglas/van Heuvelen (Iowa): 8-6 
 
TOURNAMENT SCHUDULE
Thursday – Singles Round of 128 |Doubles Round of 64
Friday – Singles Round of 64 and 32 | Doubles Round of 32 | 1-2 Rounds of Consolation
Saturday – Singles Round of 16 | Doubles round of 16 and Quarterfinals | 1-2 Rounds of Consolation
Sunday – Singles Quarterfinals and Semifinals | Doubles Semifinals | 1-2 Rounds of Consolation
Monday – Singles Finals | Doubles Finals | 1-2 Rounds of Consolation