Hawkeye Fan Shop — A Black & Gold Store | 24 Hawkeyes to Watch 2017-18 | VIDEO — Megan Gustafson
Editor's Note: The following first appeared in the University of Iowa's Hawk Talk Daily, an e-newsletter that offers a daily look at the Iowa Hawkeyes, delivered free each morning to thousands of fans of the Hawkeyes worldwide. To receive daily news from the Iowa Hawkeyes, sign up HERE.
By DARREN MILLER
hawkeyesports.com
IOWA CITY, Iowa — The tiny community of Port Wing, Wisconsin, continues to produce big-time women's basketball talent.
 
Port Wing, population 164, sits a baseline-to-baseline distance from Lake Superior in central Wisconsin. It is home to Jolene Anderson, who scored 2,312 points for the Wisconsin Badgers from 2004-08. It is also home to Megan Gustafson, who is approaching equally astronomical statistics as a junior at the University of Iowa.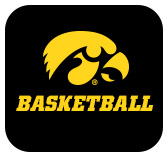 In two seasons with the Hawkeyes, the 6-foot-3 Gustafson has scored 980 points with 27 double-doubles in points and rebounds. In 2016, she was selected to the All-Big Ten Conference Freshman Team; in 2017, she was named first team All-Big Ten by coaches and media.
 
With all the individual attention she garners from opposing defenses and in the media, Gustafson is unwavering when it comes to her prevailing mission:
 
"We expect to be back in the NCAA Tournament," Gustafson said. "My No. 1 focus is on the team; I will do the best I can and see what happens from there."
 
Gustafson has played 67 games for the Hawkeyes. Five of those have been in the postseason, all in the WNIT. That is a rarity at Iowa, where from 2008-15, the Hawkeyes made eight consecutive NCAA Tournament appearances. 
 
Her third season at Iowa began with the first day of official practice Oct. 2. Gustafson is trying to become a more vocal leader, especially with the graduation of Ally Disterhoft, the school's all-time leading scorer. The fact Gustafson continues to be more productive on the court has Iowa head coach Lisa Bluder talking about awards more significant than all-conference.
 
"I believe Megan can be an All-American," Bluder said. "I don't think there is any reason why she shouldn't be a WNBA and possibly a first-round WNBA pick. I think she is that good.
 
"She could be on pace to become the all-time leading scorer at Iowa and possibly the all-time leading rebounder. She is embarking on unbelievable records."
 
Her roots are in a tiny community in Wisconsin that, yes, is known for basketball, but more for fishing, summer tourism, and a Fish Boil of trout every Labor Day weekend at the town hall and pavilion.
 
Many hats are worn by the citizens of Port Wing and an example is the Fish Boil that was started in 1958 by Floyd "Bing" Anderson. He was not only a fisherman, but also head coach of the Port Wing baseball team. The first Fish Boil was held to raise money for baseball uniforms.
 
One of Gustafson's role models is teacher/coach Jodi Truchon, who also wears many hats as assistant basketball coach, head volleyball coach, and band instructor.
 
"She was there for me and my family through everything," Gustafson said.
 
Including Gustafson, there were 11 in the 2015 graduating class at South Shore High School. She also wore plenty of hats by playing volleyball and placing fourth in the Division 3 shot put at the state meet as a senior.
 
"I loved both those sports, but it was basketball that stole my heart from the beginning," Gustafson said.
 
That is understandable for someone who stood 5-feet in third grade and always seemed to hover over classmates. Her father played basketball at Wisconsin-Superior, her mother played basketball and volleyball at The College of St. Scholastica, and her older sister played basketball at Upper Iowa.
 
 "I want to help any way I can. Rebounding is a big thing for me and then field goal percentage is something high on my priority — being able to have those high percentage shots, because I know my teammates depend on that." — Megan Gustafson
 
With all the balls dribbling up and down her family tree, it's no surprise Gustafson was introduced to the sport in first grade.
 
In Gustafson's words, Port Wing is really pretty, but really little. That created a few challenges as she navigated through athletics. Because of low participation numbers, Gustafson played on a fifth and sixth grade basketball team when she was in second grade.
 
"Before I scored my first basket ever, I would run and stand there," Gustafson said. "One time I got a pass, threw it up there, and it went in. I jumped up with both hands; I made it. My dad said the next time and every time after that, I would get so excited and run down and post up. That's where it all began."
 
As an eighth-grader, again because of lack of numbers, Gustafson not only joined, but started, for the boys' basketball team.
 
"I was told I was being too rough a couple times from the other team's coaches," Gustafson said. "It was during a game against a school with some rough guys and I was battling back with them. There was a timeout and their coach came up to my coach and told him I was being too rough on them."
 
During her high school career, there was an unjustified stigma that came with playing at the smallest Division 5 level. Gustafson once scored 64 points in a game and the three-time first-team all-state selection finished her career with a state-record 3,229 points. She added 1,724 rebounds and 628 blocked shots. In her final high school game, Gustafson scored 30 points with 18 rebounds and seven blocked shots.
 
"People were underestimating me because I was in the Division 5 level and they thought anybody can score a bunch of points at the Division 5 level," Gustafson said.
 
But Iowa coaches knew talent when they saw it. They watched Gustafson play several times on the AAU circuit with Team Wisconsin. Gustafson came to Iowa's summer camp.
 
"I remember getting (Iowa's) letter in the mail my sophomore year of high school and I was excited to hear from a Big Ten school," Gustafson said. "Then I looked at the campus and the business program. When I met the team, that sealed it for me."
 
In two seasons as a Hawkeye, Gustafson has started 48 games. She averages 14.6 points, 8.5 rebounds, and 1.5 blocks a game and shoots 61 percent from the field.
 
Bluder sees more strength and body balance in Gustafson this season.
 
"And her confidence grows every year," Bluder added.
 
Gustafson hopes to maintain the production she had as a sophomore when she averaged 18.5 points and 10.1 rebounds.
 
"I want to help any way I can," Gustafson said. "Rebounding is a big thing for me and then field goal percentage is something high on my priority — being able to have those high percentage shots, because I know my teammates depend on that."
 
Last season Gustafson made 260 of 402 field goal attempts. Her 64.7 shooting percentage was second in the Big Ten and fifth in the NCAA.
 
"If I try to play my hardest for my team and my school," then Gustafson pauses. "Some people have been talking about All-American — that is not what I am focusing on."
 
Gustafson focuses on winning. She brought that attitude with her from tiny Port Wing, Wisconsin.