Hawkeye Fan Shop — A Black & Gold Store | Fight For Iowa | Hawk Talk Monthly — October
By BAILEY TURNER
hawkeyesports.com
IOWA CITY, Iowa — The University of Iowa welcomes a top recruiting class to Iowa City for the start of the 2017-18 season. ESPN ranks their recruiting class 29th in the country for the 2017 class. Hawkeye fans should be excited about the incoming youngsters.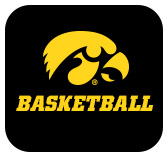 Luka Garza, 6-foot-11 and 235 pounds, was in ESPN's Top 100 for this class and for good reason. Garza was Washington D.C.'s Gatorade Player of the Year, shooting at a 60 percent clip from the field and 48 percent from 3-point range.
A hidden gem in this class, one UI head coach Fran McCaffery is very proud of, is Jack Nunge. The talented freshmen also stands at 6-foot-11 alongside his classmate Garza. Nunge was one of four finalist for Mr. Indiana Basketball, he also ranks third in school history, accumulating 1,376 career points at Castle High School.
Garza made his presence known while the Hawkeyes were across the pond in Europe. He made quick work of his competition averaging a team-best 22.5 points, 10.3 rebounds, while shooting 80 percent from the charity stripe.     
Junior Ahmad Wagner and company were thrilled with what they saw out of their new teammates overseas.
"Europe was great for our young guys, those extra ten practices were crucial for their development," said Wagner. "It gave us all a chance to play with one another and create a lot of chemistry."
The Hawkeyes return a lot of talent from last year's squad that won 19 games. Iowa brings back 85.9 percent of their total player minutes from 2016-17's campaign. Wagner had this to say about the addition of Nunge and Garza.
"Those two guys will play no doubt, they both are very deserving," Wagner said.
Nunge was a talented player in a state that prides itself on its basketball tradition. A winner, he led his high school team to an undefeated season with his versatility and ability to put the team first.
"I am ready to give it all to this program and fan base. Whether coach needs me at the 3, 4, or 5, I'll do whatever he needs me to do to help us win games," said Nunge.
Iowa basketball fans should be excited about this team; they display something that isn't always a given in college basketball, depth. With Garza's rim protecting abilities and Nunge's all-around game this should be an exciting winter for the Hawkeyes.
"We are so talented and deep, and sometimes that's not enough. This group is different. We have goals that we will achieve that will make this season so special," Garza said.
In addition to Garza and Nunge, McCaffery's oldest son, Connor, is on the squad. A two-sport athlete, McCaffery plans on redshirting this season but will gain valuable experience competing against his teammates in practice. McCaffery is rated No. 90 by ESPN.com.
With media day in the rear view mirror the Hawkeyes look forward to welcoming William Jewell College to Carver-Hawkeye Arena on Friday for an exhibition matchup at 7 p.m. (CT). Tickets are only $5 for adults and free for UI students and youth. The game will not be televised, but will be available online and through the BTN2GO mobile app on BTN Plus.