Hawkeye Fan Shop — A Black & Gold Store | Fight For Iowa | 24 Hawkeyes to Watch 2017-18 | Hawk Talk Monthly — October | Meet Notes
THE SCENE 
The University of Iowa swimming and diving team returns to the Campus Recreation and Wellness Center Natatorium on Friday hosting Minnesota. The Gophers women are ranked 17th, while the men are 21st. The meet will begin at 5 p.m. (CT). Admission is free and fans are encouraged to wear black. 
FOLLOW THE HAWKEYES
For an inside look at the Iowa swimming and diving program and access to exclusive coverage, "like" Iowa Swimming and Diving on Facebook and follow @IowaSwimDive on Twitter and @hawkeyeswimdive on Instagram.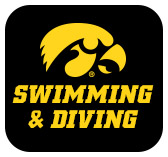 LAST TIME OUT
The Iowa men's and women's swimming and diving team opened its 2017-18 season hosting Michigan State and Northern Iowa at the CRWC Natatorium on Oct. 5-6. In total the Hawkeyes won 23 events to send them to a three dual victory — posting a men's Big Ten victory over the Spartans (195-100), while the women's downed Michigan State (189-108) and Northern Iowa (184-113). 
    Six Hawkeyes posted multiple victories on the men's side — Michal Brzus, Michael Tenney, Kenneth Mende, Jerzy Twarowski, Jack Smith, and Joe Myhre all posted two wins on the day. On the women's side, Hannah Burvill and Mekenna Scheitlin won multiple events. 
THANKS FOR THE MEMORIES (SENIOR DAY)
The Hawkeyes will celebrate 19 seniors from the swimming and diving program as part of Senior Day against Minnesota on Oct. 27. On the men's side seniors include Colter Allen, Chris Dawson, RJ Hemmingsen, Garrett Hoce, Matt Mauser, Thomas Rathbun, Logan Samuelson, and Jerzy Twarowski. The women's senior class includes Izzie Bindseil, Summer Campbell, Shea Hoyt, Jo Jekel, Nikol Lagodzinska, Meghan Lavelle, Lauren Leehy, Tereysa Lehnertz, Carly O'Brien, Morgan Rafferty, and Mekenna Scheitlin. 
BURVILL FREESTYLIN'
Sophomore freestyler Hannah Burvill won four events against Michigan State and Northern Iowa. She touched in at 1:49.83 to win the 200 free and followed that up with victories in the 100 free (50.67) and 500 free (4:56.81). Burvill also placed first as part of the 400-free relay.
B1G ATHLETES OF THE WEEK
On Oct. 11, three Hawkeyes received Big Ten Weekly honors. Junior Jacintha Thomas was named Big Ten Diver of the week, while sophomore Joe Myhre was tabbed as the Big Ten Swimmer of the Week. Freshman Anton Hoherz received both the Big Ten Diver of the Week and Freshman of the Week. 
DIVERS SET RECORDS AGAINST MSU, UNI
Jacintha Thomas won the 1-meter with a career-best score of 307.60 — the seventh-best score in school history, while Jayah Mathews took her first career win off the 3-meter with a 315.00 — a performance that ranks 10th all-time. Both divers posted qualifying standards off both the 1-meter and 3-meter.Anton Hoherz dove to victories with NCAA standards off the 1-meter (340.50) and 3-meter (374.90). The 3-meter score is fourth in school history, while 1-meter ranks seventh. Brenner also posted zone marks off both boards, finishing as runner-up in both events.
HAWKEYES RETURN EXPERIENCED GROUP
The Iowa men's and women's swimming and diving program returns 21 letterwinners each and welcomes a total of 16 freshmen to the 2017-18 season. The Hawkeyes return four all-time top performers — Jack Smith (100 Free), Jerzy Twarowski (100, 200 Fly), Hannah Burvill (100 Free), and Will Brenner (1-Meter).
    Smith received men's Big Ten Freshman Swimmer of the Week honors on Oct. 5, 2016, last season. Burvill also received women's Big Ten Freshman Swimmer of the Week  recognition three times last season (Oct. 5, 2016)(Dec. 14, 2016)(Jan. 25, 2017), while two returning divers noched Big Ten Diver of the Week honors in 2016 — Jacintha Thomas (Oct. 5, 2016), and Thelma Strandberg (Dec. 14, 2016). 
SMITH CARRIES POSTSEASON EXPERIENCE INTO 2017-18 
Junior Jack Smith broke the 100 freestyle record with a prelim swim of 43.15 seconds at the 2017 Big Ten Championships. The England native finished 12th overall in the event, finishing with a time of 43.29 seconds in the finals. 
RETURNING NCAA QUALIFIER
The Iowa swimming and diving program returns one NCAA qualifier from last season. Sophomore diver Thelma Strandberg returns for her second season following her debut performance at the 2017 NCAA Championships. The Norway native qualified via a 11th-place finish at the NCAA Zone D Diving Championships while recording a career-best score of 242.30 during the prelims at the Zone meet.
HAWKEYE NEWCOMERS
Eight newcomers are set to join the men's swimming and diving program this year, including Michal Brzus, Anton Hoherz, Jackson Kuhlers, Thomas Pederson, Jonatan Posligua, Jacob Rosenkoetter, Tom Schab, and Daniel Swanepoel. The eight freshmen come from four different countries — Africa, Ecuador, Poland, and the United States — and four different states, including Iowa, California, Texas (2), and Minnesota. 
    The women's program welcomes eight newcomers for the 2017-18 season. Kelsey Drake, Mallory Fox, Morgan Grout, Lexi Horner, Jayah Mathews, Sage Ohlensehlen, Claire Park, and Sarah Schemmel each begin their freshmen campaigns this year. Five newcomers hail from Iowa, while Fox is from Wisconsin, Grout is from Indiana, and Mathews is from Australia. 
13 HAWKEYES COMPETE AT U.S. OPEN CHAMPIONSHIP SERIES 
Seniors Jerzy Twarowski, Thomas Rathbun, RJ Hemmingsen, juniors Jack Smith and Tanner Nelson, and sophomores Joe Myhre, Weston Credit, Will Scott, and Steve Fiolic represented the Iowa men's team at the 2017 U.S. Open Championship Series at the Nassau County Aquatics Center in East Meadow, New York this past summer. Women's competitors included seniors Meghan Lavelle, Tereysa Lehnertz, and Mekenna Scheitlin, and sophomore Hannah Burvill. 
IOWA SWIMMING AND DIVING HISTORY
Iowa was one of the first schools in the nation to compete on a collegiate level, and in 1937, the Hawkeyes competed at the first NCAA Championships.  From 1937 to 1960, Iowa placed in the NCAA top 10 a total of 18 times, crowning nine NCAA and 22 Big Ten champions.
UI CAMPUS RECREATION AND WELLNESS CENTER
The University of Iowa's Campus Recreation and Wellness Center has been home to the Hawkeyes since August of 2010.  The 69 million dollar facility is located at the corner of Burlington and Madison streets and was named the third-best campus student recreation center nationally by Best College Reviews in 2013. The facility includes a 50-meter competition pool, a separate diving well, a leisure pool with lap lanes, and 24,000 square feet of fitness space.
FORMER HAWKEYE ASHLEY DELL JOINS COACHING STAFF
University of Iowa graduate and former volunteer assistant coach Ashley Dell was named an assistant coach with the University of Iowa swimming and diving program this past June. Dell rejoined the staff following stints at George Washington (2011-14) and Southern Methodist (SMU)(2014-17). Dell also spent two seasons as a volunteer coach at the University of Iowa from 2009-11. A member of the Iowa women's program from 2005-2009, Dell was a two-year team captain for the Hawkeyes. She is an all-time top-10 performer in the 500, 1,000, and 1,650-yard freestyle events. 
ON DECK
The Hawkeyes return to action traveling to West Lafayette, Indiana, for a Friday night dual against Purdue on Nov. 3.