24 Hawkeyes to Watch – 2017-18 | Hawk Talk Monthly — October | WBB Tickets
Editor's Note: The following first appeared in the University of Iowa's Hawk Talk Daily, an e-newsletter that offers a daily look at the Iowa Hawkeyes, delivered free each morning to thousands of fans of the Hawkeyes worldwide. To receive daily news from the Iowa Hawkeyes, sign up HERE.
By RICK BROWN
hawkeyesports.com
IOWA CITY, Iowa — Christmas has come early for Lisa Bluder.
 
She started her 18th season as the University of Iowa women's basketball coach by unwrapping a surprise gift. Inside was junior point guard Tania Davis, back from knee surgery much sooner than expected.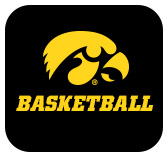 "I really anticipated having her back by Christmas," Bluder said at the Hawkeyes' annual media day Monday. "She will be suited up and ready to go for the first game. Nobody's happier about that one than me."
 
Davis tore the ACL in her right knee in the final minutes of a 72-70 loss at Michigan on Feb. 5. Iowa had the lead when Davis was injured, but saw it slip away at the end. It would have been a significant win on the Hawkeyes' NCAA resume. Instead, it was a loss that helped put them on the wrong side of the bubble. Not having Davis down the stretch didn't help pop that bubble, either.
 
"That was a big blow because she can do things for our team that nobody else can do," Bluder said. "Losing that leadership and that depth, hurt us last year."
 
Davis was injured as she drove into the lane, came to a jump stop, and was about to make her signature move.
 
"I honestly didn't think anything was wrong," Davis said. "I didn't hear a pop or anything."
 
But Iowa athletic trainer Jennie Sertterh knew it was serious after checking the knee in the locker room after the game. Surgery came nearly two weeks later, followed by a rehabilitation journey that got Davis to the finish line sooner than expected.
 
"Being patient with the process, patient with the trainers, with myself, and my body, that's been the key for me," said the 5-foot 3-inch Davis, who averaged 10.9 points and added 98 assists in her abbreviated 23-game sophomore season.
 
Physical strength has never been an issue for Davis. But coming back was a test of her mental strength. Some days would be good, other days, not so good.
 
"I tried to stay positive through it all," Davis said. "I knew from day one that I was going to have to be invested in my rehab or I wouldn't be here ahead of schedule right now. Since day one I've been willing and dedicated to do whatever I have to do to get better."
 
While her teammates were playing and working on skill development over the summer, Davis spent her time with Sertterh working to strength her leg. She also made trips to the University of Iowa Sports Medicine Clinic, where she worked on her explosiveness and change of direction.
 
"Without all of them I wouldn't be ahead of schedule like I am," Davis said.
 
It was during one of this season's first practices that Davis passed a big test, for both herself and her coach.
 
"She has this ability to get to the rim and shoot the ball over people much taller than her," Bluder said. "She has no fear going in there. I was, quite honestly, nervous about that part of her game. The first time she took it in (during practice) I said, 'Well, that's over. That's not going to hold her back.' "
 
Davis was concerned, too, until she made a jump stop in practice similar to the one she made when she was injured in Ann Arbor.
 
"It was the first time we did finishing moves," Davis said. "Doing a jump stop and knowing I could do it again and do it effectively.  That put me at ease and let me know I can do this again."
 
Davis is driven as the season-opening Hawkeye Challenge Nov. 10-11 grows closer.
 
"Going down, my first thought was, 'Will I ever be the same?' "Davis said. "But after putting in the amount of work I have put in in the offseason, just to get back here, and to be the same exact player, if not a better player than I was before I left, that's what's driving me right now. 
 
"To be able to make the moves that I've made previously in practices, it has given me a whole lot of confidence and put me at ease. It's making me positive again."
 
Don't look for Tania and tentative to be used in the same sentence.
 
"I don't want to adjust my style of play," Davis said. "I want to stay the same. Attack the basket, shoot the wide-open 3, hit my teammates in transition, and run. That's the type of game I love to play."