Hawkeye Fan Shop — A Black & Gold Store | 2017 Football Season Tickets | Kinnick Edge | Fight For Iowa | Freshman Spotlight: Geno Stone | Freshman Spotlight: Ihmir Smith-Marsette | Freshman Spotlight: Ivory Kelly-Martin | Freshman Spotlight: Matt Hankins | Freshman Spotlight: A.J. Epenesa | Freshman Spotlight: Tristan Wirfs | Freshman Spotlight: Noah Clayberg | VIDEO — Ryan Gersonde
Editor's Note: The following first appeared in the University of Iowa's Hawk Talk Daily, an e-newsletter that offers a daily look at the Iowa Hawkeyes, delivered free each morning to thousands of fans of the Hawkeyes worldwide. To receive daily news from the Iowa Hawkeyes, sign up HERE.
By DARREN MILLER
hawkeyesports.com
 
IOWA CITY, Iowa — Performing in front of nearly 70,000 football fans Oct. 7 in Kinnick Stadium didn't rattle University of Iowa punter Ryan Gersonde. To him, it is more nerve-wracking competing at practice in front of the watchful eyes of head coach Kirk Ferentz.
 
Gersonde, from Milwaukee, Wisconsin, via Australia, saw his first action on Homecoming with the Hawkeyes holding a 17-13 third-quarter lead over Illinois. He booted a 38-yarder into Illini territory that was fair-caught.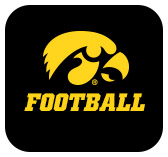 "It was cool to play in front of 70,000 people, but I made sure not to look up into the stands," Gersonde said. "The atmosphere was fun."
 
And game action is nothing compared to daily auditions for the head Hawkeye.
 
"Punting in front of coach Ferentz is as nervous as it gets anyway, so I thought I was ready for it," Gersonde said.
 
In his debut, he punted three times for an average of 37.7 yards. His best was a 43-yarder on his third and final attempt during Iowa's 45-16 victory. That was nothing compared to his encore performance Oct. 21 at Northwestern. Gersonde punted five times for an average of 52.6 yards and a long of 61. He booted a 49-yarder into the wind.
 
"He did some good things and they were challenging circumstances," Ferentz said. "He drove one into the wind pretty well which was impressive."
 
Gersonde is unique in many ways:
 
1) He is left-footed.
"Some people say (the ball) spins different and is harder for returners to catch," Gersonde said. "It's kind of like a left-handed pitcher in baseball."
 
2) He spent most of his childhood in Australia.
"My dad got a job in Sydney, so we moved there," Gersonde said. "They were supposed to stay a year and they ended up staying 15. (My parents) wanted me to have a high school experience here, so they decided to move back and my dad got a job in Milwaukee."
 
3) He earned a scholarship to punt directly out of high school.
"I was thrilled," Gersonde said. "It was awesome when coach gave me the call. I was pumped because it is very rare. There is still a lot of work ahead; they aren't going to give you anything just because you are on scholarship."
 
Finding a punter in the Class of 2017 was a priority for the University of Iowa coaching staff. Ferentz looked at five punters during the course of the recruiting process and liked Gersonde for at least two reasons: he could punt well and he could punt well in the Midwest where weather conditions are not always ideal.
 
"Ryan is the guy we decided on, partly because he had punted in challenging weather," Ferentz said. "That made us even more impressed with him. He is a good athlete with good size and he is off to a good start. He will only get better in time."
 
As a high school senior, Gersonde earned all-conference, all-region, and all-state honors after averaging 40 yards a punt for Marquette University High School. The 2017 season marks his fifth year as a punter.
 
"I moved here to the (United) States my freshman year of high school and my dad wanted me to try out for punter on the team," Gersonde said. "I didn't really know what that was. I started kicking and apparently I was pretty good, so I kept doing it throughout high school. I started pretty late."
 
He may have been a late-bloomer, but he received attention from several Big Ten schools. Gersonde said he felt most comfortable with the coaches and teammates he met at Iowa.
 
"He has impressed us over the course of the season in practice," Ferentz said. "He carries himself well and since he has gotten an opportunity, he has taken advantage of it. He and (sophomore) Colton (Rastetter) have formed a good one-two punch."
 
Iowa (4-3 overall, 1-3 Big Ten) returns to action Oct. 28 against Minnesota (4-3, 1-3) at 5:30 p.m. (CT) inside Kinnick Stadium. Tickets remain and may be purchased HERE.