Hawkeye Fan Shop — A Black & Gold Store | Fight For Iowa | Hawk Talk Monthly — October
By DARREN MILLER
hawkeyesports.com
 
IOWA CITY, Iowa — The University of Iowa men's basketball team was six games into the 2016-17 season when senior Peter Jok went off for 42 points against Memphis in the Emerald Coast Classic.
 
The Hawkeyes lost the game, 100-92.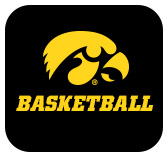 Jok scored 594 more points, led the Big Ten Conference in scoring, and was named first-team all-conference and All-American.
 
But he is no longer on the Hawkeye roster. Head coach Fran McCaffery returns a deep bunch, but Iowa needs to find ways to compensate for the points (19.9 per game) and outside shooting (2.6 3-point field goals per game) that will be missed in Jok's absence.
 
Coincidentally, the loss to Memphis sent a resounding message to the Hawkeyes: other players need to step up. Tyler Cook did, so did Jordan Bohannon and Iowa won 19 games and played two games in the National Invitation Tournament.
 
McCaffery admitted there were times last season when he was going to substitute, but bypassed then-freshman Isaiah Moss. The 6-foot-5 guard from Simeon High School in Chicago played just six minutes at Illinois, five against Indiana, and 10 in the season-ending loss to Texas Christian.
 
But the days of keeping Moss of the court have passed. McCaffery says junior Nicholas Baer, sophomore Cordell Pemsl, and Moss have stepped up and into new roles — especially Moss.
 
"He's a guy that is incredibly talented and had phenomenal games last year," McCaffery said.
 
Moss averaged 6.5 points in 34 games, scoring a career-high 21 against Stetson. He also had scoring nights of 19 (at Minnesota), 17 (at Nebraska), and 16 (against South Dakota in the first round of the NIT).
 
"This year is going to be his opportunity to shine," McCaffery said. "He is playing well and I think he is ready to step up and fill that role."
 
During Iowa's four-game trip to Europe in August, Moss averaged 12.5 points, 3.5 rebounds, two steals, and 1.8 assists per game. He shot 67 percent from the field and made a team-high 12 3-pointers.
 
Moss is in his third season with the Hawkeyes after redshirting in 2015-16. He started the final 28 games as a freshman and is in line for a breakout sophomore season.
 
"I don't feel pressure. I'm confident in myself and I know what I can do," Moss said. "Plus, I have great players around me. Since I came to Iowa, I was just trying to have that role. It's finally here, so I will embrace every moment."
 
The departure of Jok means Moss will be able to further showcase his talents. Things like getting in the lane and to the rim and creating for others.
 
"Pete was a great shooter who pretty much did it all," Moss said. "I want to be the best player I can be. It will be a different role and I'm looking forward to it."
 
McCaffery has met with media twice in the preseason and both times one of the first Hawkeyes he praised was Moss.
 
"Isaiah is a defender and a terrific, high-percentage shooter from 3-point range," McCaffery said. "He has a pull-up game and is a tremendous finisher in traffic and on the break. With Pete gone, he understands that his responsibility is different, and consequently, his confidence level will be much improved. I'm excited to see where he ends up."
 
Iowa opens the season Friday with an exhibition against William Jewell College at 7 p.m. (CT) on Mediacom Court inside Carver-Hawkeye Arena. Last season the Cardinals were 9-17 overall, 5-13 in the Great Lakes Valley Conference.