Hawkeye Fan Shop — A Black & Gold Store | 2017 Football Season Tickets | Kinnick Edge | Fight For Iowa
Editor's Note: The following first appeared in the University of Iowa's Hawk Talk Daily, an e-newsletter that offers a daily look at the Iowa Hawkeyes, delivered free each morning to thousands of fans of the Hawkeyes worldwide. To receive daily news from the Iowa Hawkeyes, sign up HERE.
By DARREN MILLER
hawkeyesports.com
 
IOWA CITY, Iowa — Akrum Wadley finished his postgame interviews, then paused behind a cluster of reporters surrounding senior James Butler, his partner in the University of Iowa offensive backfield.
 
"JB, he's the man," shouted Wadley.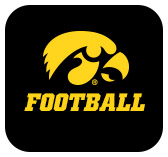 "The Man" Butler made his return to a football field Saturday against Minnesota, five weeks after dislocating his right elbow against North Texas on Sept. 16. It was a long stretch of rehabilitation and watching from the sidelines for the graduate transfer from Nevada.
 
It was a difficult decision for Butler to leave the Wolf Pack for Iowa after three seasons and 3,313 rushing yards. Then, after playing three games and rushing for 158 yards as a Hawkeye, Butler suffered an injury for the first time in his playing career.
 
"The decision coming here was hard," said Butler. "Then finally getting here and my first injury comes my senior year. As an injured person, you kind of don't feel like part of the team. You're walking on the sideline and you never know if you're going to get back in."
 
There was substantial swelling in the elbow as Butler waited for his right arm to heal.
 
"I had like a thigh for an arm for a little while," he said.
 
He experienced a myriad of emotions — mad, frustrated, anxious, and a little confused. Should he return to bolster the 2017 Hawkeyes, or redshirt and bolster the 2018 Hawkeyes?
 
"There are pros and cons to both sides," Butler said. "It wasn't an easy decision. I would love to come back and play next year, but I worked so hard to get back and help this team win. To finally be able to get back to 100 percent and play at a high level."
 
Butler decided to play this week. If he could practice pain-free while wearing a large brace on his right arm, he would rejoin the Hawkeyes. He absorbed several hits Wednesday in practice and felt fine. On Thursday he spoke of a return with head coach Kirk Ferentz.
 
"He told me to sleep on it," Butler said.
 
By Friday, Butler's decision was official.
 
Butler addressed the team before Iowa battled the Golden Gophers on Saturday for the traveling trophy Floyd of Rosedale.
 
"I'm not much of a talker, but I know to talk when it's needed and not to talk too much," Butler said. "I said, I want to be with you guys. I could have sat out, but I want to play for this team. I'm a senior and I feel we can do something special here. I know it hasn't been what we believe it should be right now, but we can turn that around if we decide to."
 
Butler entered Saturday's game in the second quarter, gaining two yards on his first game-day carry in 42 days. He finished with 11 rushes for 28 yards and one reception for 19 yards. After the catch and run, Butler lost a fumble at Minnesota's 21-yard-line with 44 seconds left in the first half.
 
"I will never say I played well if I put the ball on the ground," Butler said. "I should have held on to that one, so I'm still frustrated with that. But we won as a team, so that's all that matters."
 
The Hawkeyes improved to 5-3 overall, 2-3 in the Big Ten with a 17-10 victory over Minnesota. Iowa ran the ball 33 times for 125 yards — the team's third-highest rushing total of the season.
 
"There is no going back now," Butler said. "It felt good to take that first hit. I'm excited for what we have going forward. We were able to rush the ball pretty well, so we will keep building off that."
 
Butler and the Hawkeyes return to Kinnick Stadium on Nov. 4 against No. 6 Ohio State (7-1, 5-0) with a 2:30 p.m. (CT) kickoff.