Hawkeye Fan Shop — A Black & Gold Store | Fight For Iowa | Hawk Talk Monthly — October
Editor's Note: The following first appeared in the University of Iowa's Hawk Talk Daily, an e-newsletter that offers a daily look at the Iowa Hawkeyes, delivered free each morning to thousands of fans of the Hawkeyes worldwide. To receive daily news from the Iowa Hawkeyes, sign up HERE.
By RICK BROWN
hawkeyesports.com
 
IOWA CITY, Iowa — Jordan Bohannon said he has heard of Bob Cousy.
 
"Never saw a clip of him, though," Bohannon said.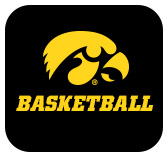 Earlier this preseason, Bohannon was one of 20 players named to the watch list for the Bob Cousy Award by the Naismith Memorial Basketball Hall of Fame.
 
A point guard, Cousy broke ankles and piled up assists while helping the Boston Celtics to six NBA titles in the late 1950s and early 1960s.  The Cousy Award goes to the nation's top Division I point guard.
 
The watch list will fluctuate during the season. But the fact that Bohannon was included on the initial list shows what an impression he made as a freshman point guard for the University of Iowa men's basketball team.
 
Bohannon made the All-Big Ten Freshman team after averaging 10.9 points and shooting 41.6 percent from 3-point range. He set a freshman school record with 175 assists, erasing Jeff Horner's previous mark of 140.  He scored in double figures 17 times, and had five games of at least 20 points.
 
All this from a player that many didn't think could play in the Big Ten after being named Iowa Mr. Basketball as a senior at Linn-Mar High School. But Iowa head coach Fran McCaffery said he never wondered if Bohannon's prep skills would translate to the college game.
 
"I didn't see why it wouldn't," McCaffery said. "He reminded me a lot of Steph Curry when you watch him play. He has unbelievable range, but he can go by you and he's a good passer. He's a much better athlete than people think. The fact that he performed so well was not a shock at all."
 
Bohannon appreciates the confidence McCaffery has in him, but he admits the obvious when he says "I know I'm not in those shoes yet" when he hears the Curry reference.
 
Bohannon did play with a high level of fearlessness as a Hawkeye freshman. That word has been tagged to his name forever.
 
"Probably back to when I was 2-years-old, getting in fights with my brothers that I probably shouldn't have been in," Bohannon said.
 
But that fearlessness was also a mask several times in his career.
 
"Even before coach McCaffery gave me this opportunity to play here I had doubts myself that I could play at this level," Bohannon said. "It took a lot of prayer, and a lot of hard work every day, just to realize I could do this. I did the same thing when I got here because I did have a little doubt in myself."
 
Doubt was replaced by confidence as the 2016-17 season rolled on. Bohannon's exclamation point came in a 59-57 victory at Wisconsin on March 2, when he stuck the game-winning 3-point dagger and held the finish after he released the shot with nine seconds remaining.
 
"I was excited because I knew once I shot it that it was going in," Bohannon said.
 
Bohannon came to Iowa with the reputation as a shooter. Shooting guard seemed to be his natural position, but he worked to learn the point-guard spot. In truth, the work started years ago.
 
"Growing up, I knew I wasn't going to be as tall as everyone else so I worked on my ball handling," said Bohannon, who is listed at 6-foot on the Iowa roster. "I always wanted to turn myself into a true point guard. As the season went on I molded myself into that position. Now I know all the things you need to be a true point guard.  With the experiences I've been through, it's a lot easier for me to say I'm a true point guard now than I did before the season."
 
With the luxury of having three older brothers — Jason, Zach and Matt — who played Division I basketball, Jordan listens to them for experience-based advice. Their suggestion after last season was to improve his defense. Bohannon did hundreds of defensive slide drills over the summer to get better. He also worked on driving the ball into the paint and shooting floaters.
 
While he has a better feel for the point guard spot than he did a year ago, he'll be tested in different ways.
 
Shooting guard Peter Jok, Iowa's fourth consecutive first-team All-Big Ten player, is gone.
 
"Pete was someone I leaned on so much," Bohannon said.
 
As a result, Bohannon will get more attention from opposition scouting reports than he did when Jok was his sidekick.
 
"It's going to be a different challenge for him because he'll be a marked man," McCaffery observed.
 
Bohannon will be chased by opposition defenses, just like he was at Linn-Mar.
 
"It's not something he hasn't seen, he's just going to have big, strong athletes (guarding him) that are going to wear him down," McCaffery said. "But he has that relentlessness about him. He's smart, quick, tough, and he has an incredible ability to make shots, especially under pressure. I'm excited about him in that process, to take that next step and see where it ends up."