Hawkeye Fan Shop — A Black & Gold Store | 2017 Football Season Tickets | Kinnick Edge | Fight For Iowa | Hawk Talk Monthly — November 2017 | Freshman Spotlight: Geno Stone | Freshman Spotlight: Ihmir Smith-Marsette | Freshman Spotlight: Ivory Kelly-Martin | Freshman Spotlight: Matt Hankins | Freshman Spotlight: A.J. Epenesa | Freshman Spotlight: Tristan Wirfs | Freshman Spotlight: Noah Clayberg | Freshman Spotlight: Ryan Gersonde | VIDEO — Max Cooper
Editor's Note: The following first appeared in the University of Iowa's Hawk Talk Daily, an e-newsletter that offers a daily look at the Iowa Hawkeyes, delivered free each morning to thousands of fans of the Hawkeyes worldwide. To receive daily news from the Iowa Hawkeyes, sign up HERE.
By DARREN MILLER
hawkeyesports.com
 
IOWA CITY, Iowa — Max Cooper watched only one University of Iowa football game before signing with the Hawkeyes.
 
The game was the Big Ten Championship on Dec. 5, 2015, and Cooper was at Lucas Oil Stadium to support his cousin who walked on at Michigan State. Two things stuck with Cooper after the exciting contest: he loved Big Ten football and he loved the support he saw from Hawkeye fans.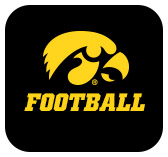 "Since I was a little kid, it was always my dream to play in the Big Ten," Cooper said. "Once the opportunity came, it was no decision."
 
During his senior season at Catholic Memorial High School in Waukesha, Wisconsin, Cooper caught 50 passes for 1,024 yards and 17 touchdowns, including four receptions for 78 yards and a touchdown in the 2016 Division 3 championship victory over Notre Dame Academy.
 
Still, Cooper wasn't receiving a lot of interest from Power 5 schools, so he verballed to Central Michigan, where his father played briefly as a backup quarterback.
 
"We thought he was a guy slipping through the cracks a little bit and thought he could help our roster," Iowa head coach Kirk Ferentz said.
 
Iowa offered a scholarship in December and the 6-foot, 175-pound Cooper signed Feb. 2.
 
"Once Iowa came in, it was a dream come true," Cooper said.
 
This season Cooper has played primarily on punt team; he joins Matt VandeBerg and Josh Jackson as punt returners.
 
"I enjoy going out there and returning punts," Cooper said. "Hopefully I can get a chance to show my skills in the future."
 
Ferentz liked the way Cooper performed within Catholic Memorial's perennially-solid program.
 
"We were impressed with the way he played, his attitude, ball skills, and competitiveness," Ferentz said.
 
The Cooper family always seemed on the go. Father Steve worked in the insurance business, so the family relocated to Georgia, Illinois, and Michigan before settling in Wisconsin.
 
A multi-sport athlete, Cooper participated in basketball, football, lacrosse, and track. On the football field, he was known for making defenders miss, precise route-running, and catching balls in traffic.
 
Ferentz says with Cooper, not unlike other Hawkeyes like VandeBerg or C.J. Beathard, "his biggest challenge is maturing physically."
 
"He's not the biggest guy in the world, but he is productive," Ferentz said.
 
Cooper called his transition to Iowa "smooth," saying several upper classmen have lent a helpful hand as he begins to understand the lay of campus.
 
He also continues to be awestruck by the same steadfast fan support he noticed during the Big Ten Championship in Indianapolis.
 
"The fans were incredible when they were doing the I-O-W-A," Cooper recalls. "It was the coolest thing I have ever seen. I got a different perspective on Iowa after going to that game, coming in not knowing anything about them."
 
During his first eight games in college, Cooper has played in front of an average of 63,875 fans per game. The Hawkeyes take a record of 5-3 overall, 2-3 in the Big Ten into Saturday's contest against No. 3 Ohio State (7-1, 5-0) inside Kinnick Stadium. Kickoff is set for 2:30 p.m. (CT).
 
Fans might see Cooper on offense, punt team, or returning punts.  Or he might simply lend support on the sidelines. If he is needed, count on Cooper being ready to perform.
 
"Doing my role, whatever the coach wants me to do," Cooper said. "I want to benefit the team and help us do the best we can."