Hawkeye Fan Shop — A Black & Gold Store | 2017 Football Season Tickets | Kinnick Edge | Fight For Iowa
Editor's Note: The following first appeared in the University of Iowa's Hawk Talk Daily, an e-newsletter that offers a daily look at the Iowa Hawkeyes, delivered free each morning to thousands of fans of the Hawkeyes worldwide. To receive daily news from the Iowa Hawkeyes, sign up HERE.
By DARREN MILLER
hawkeyesports.com
 
IOWA CITY, Iowa — Leave it to University of Iowa tight ends to provide normalcy in a game that saw a quarterback punt, a punter throw a pass, and a long-snapper stumble two yards shy of pay dirt.
 
Redshirt freshman T.J. Hockenson and sophomore Noah Fant combined to catch nine passes for 125 yards and four touchdowns as the Hawkeyes (6-3 overall, 3-3 Big Ten) stunned and upended No. 3 Ohio State (7-2, 6-1), 55-24, on Saturday inside Kinnick Stadium.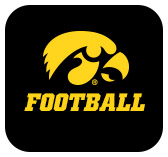 Hockenson led all receivers with five catches for 71 yards and two touchdowns; Fant caught four for 54 yards and two touchdowns.
 
"It's like our team, it's week-to-week," Iowa head coach Kirk Ferentz said. "You never know if they're going to have a breakthrough moment. Those guys have things they can get better at, but they're helping us a lot and (quarterback) Nate (Stanley) seems to find them.
 
"There's no magic. It's hopefully part of the process."
 
Fant had a 6-yard reception during Iowa's first offensive drive that moved the chains. In the second quarter, he caught three passes for 48 yards with touchdowns covering 25 and three yards.
 
"We were able to find different holes in their defense," Fant said. "After we scored a couple, they started bringing a safety to my side, which opened up T.J. and he was able to make some nice catches."
 
Hockenson caught three passes for 56 yards and a touchdown in the second quarter and two for 15 yards and a touchdown in the third quarter.
 
The two-yarder provided one of many memorable plays of the game and it came one snap after punter Colten Rastetter completed an 18-yard pass to long-snapper Tyler Kluver on fourth-and-3 from the Ohio State 20. Stanley dropped back, but soon had Ohio State defensive end Sam Hubbard clinging to his left foot at the 14-yard-line. Instead of yielding a sack, Stanley fired a bullet that Hockenson caught in the back of the end zone. Iowa 38, Ohio State 17.
 
"TJ made a great adjustment," Stanley said. "He saw it, put his arm back inside and I trusted he would make a play and that's what he did."
 
It takes more than one position group to excel when an offense accumulates 487 yards against an opponent that entered the game surrendering 302.5 yards per game — and two of the Buckeyes' previous eight games were against top 10 opponents Oklahoma and Penn State. Iowa's offensive output Saturday was three yards less than what Oklahoma gained against Ohio State on Sept. 9 and 204 more than Penn State gained Oct. 28.
 
"We were ready," Hockenson said. "The game plan showed us what we needed to do and we put our trust in the quarterback. When he calls our number, we're ready to make the play.
 
"We saw there was a chance with (the tight ends) and we put our trust in (offensive coordinator) Brian Ferentz and the quarterback to read the defense and see what we had. They threw us the ball and we executed."
 
For the season, Fant has 23 receptions for 353 yards and seven touchdowns; Hockenson has 19 catches for 272 yards and three scores.
 
Ironically, this season marks the 30th anniversary of Marv Cook's miraculous 28-yard touchdown reception on fourth-and-23 with 16 seconds remaining to defeat the Buckeyes 29-27 in Columbus, Ohio, in 1987.
 
Cook, of course, was a tight end.