Hawkeye Fan Shop — A Black & Gold Store | 2017 Football Season Tickets | Kinnick Edge | Fight For Iowa
Editor's Note: The following first appeared in the University of Iowa's Hawk Talk Daily, an e-newsletter that offers a daily look at the Iowa Hawkeyes, delivered free each morning to thousands of fans of the Hawkeyes worldwide. To receive daily news from the Iowa Hawkeyes, sign up HERE.
By RICK BROWN
hawkeyesports.com
 
IOWA CITY, Iowa — Miguel Recinos joined the University of Iowa football program with no promises, and no scholarship offer. And it was the perfect sales job.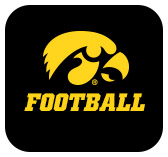 "A lot of recruits look for window dressing and stuff like that," said Recinos, the Hawkeyes' junior placekicker from Mason City. "They expect to get kind of get pampered. Iowa made it very clear what the expectations were. I liked that because you can tell this team is very workmanlike. You earn your pay."
 
Or, in the case of Recinos, earn your playing time.
 
"Even though I'm a walk-on, and so are a lot of other guys on this team who can play, we're not treated any differently from the scholarship guys," Recinos said.
 
Recinos has been money in his first full-time season as Iowa's placekicker. He also handles kickoff duties. He's a perfect 30-for-30 in point-after kicks, and has made 9-of-11 field goals for a team that became bowl eligible for the 16th time in the last 17 seasons with Saturday's stunning 55-24 upset of No. 3 Ohio State.
 
Recinos contributed to the victory with a pair of 30-yard field goals. Late in the third quarter, it looked like Recinos would attempt a 33-yard field goal as well. Iowa elected for some trickery instead.
 
Recinos went in motion, the ball was snapped to holder Colton Rastetter and he threw a pass to snapper Tyler Kluver on a play that gained 18 yards to the Ohio State 2.
 
"My job was to make sure I was on the line (of scrimmage)," Recinos said. "The ref gave me the signal I was OK. It took me back to my wide receiver days as a freshman (in high school)."
 
Reinnos, flanked left, went in motion to trigger the play.
 
"We ran it well," Recinos said. "Unfortunately, Kluv didn't score.
 
Quarterback Nate Stanley's 2-yard touchdown pass to T.J. Hockenson on the next play gave Iowa a 38-17 lead and put a lock on the upset.
 
"What a win," Recinos said. "Something I'll never forget the rest of my life."
 
Recinos has now been a part of two significant November victories at Kinnick Stadium.  The Hawkeyes knocked off No. 2 Michigan last season on Keith Duncan's last-second 33-yard field goal.
 
History might have told a different story had Iowa's final drive not moved so deep into Michigan territory.
 
Recinos was going to kick that last field goal if the Hawkeyes didn't get deeper than the Michigan 25. Iowa took over at the Wolverines' 36 with 1:23 remaining.
 
"Keith was pumping me up," Recinos recalled. "He was telling me, "You got this."
 
But after quarterback C.J. Beathard hit running back Akrum Wadley on a screen pass for 10 yards, and Wadley gained 3 more on a run, the ball was now in Duncan's court.
 
"It was a moment of shock for both of us," Recinos said "Keith was not even ready to hit that kick. He was freaking out a little bit. I was telling him, 'Alright, Keith, get a few reps, you got this.' We were able to calm him down, and he went out and made a great kick to win the game."
 
Recinos beat out Duncan, a sophomore, for placekicking duties in fall camp.
 
"Keith and I competed very hard in camp," Recinos said. "Keith has grown a lot as a kicker, and so have I. We've had a healthy competition. We both have faith in each other and we're each other's biggest fan."
 
Duncan is the first one to greet Recinos after a made kick, just like Recinos did to Duncan last season.
 
"You'll be seeing him again, and I think you'll be surprised with how much better he has gotten," Recinos said.
 
Saturday's victory over Ohio State came without any late-game drama.
But the celebration and field-storming matched the Michigan game of a year ago.
 
As the final seconds melted off the Kinnick Stadium clock, the word was passed down the Iowa sidelines — buckle up those helmets so you don't lose them.
 
"We were running onto the field, I looked to my left and it was like, 'Oh my God, they're already here,' " Recinos said of the fans. "I was not expecting that."
 
Recinos and Rastetter saw a couple of young kids in the middle of the celebration.
 
"They were about to get trampled," Recinos said. "We put them on our shoulders and carried them off."