Hawkeye Fan Shop — A Black & Gold Store | 24 Hawkeyes to Watch – 2017-18 | Fight For Iowa | Hawk Talk Monthly — November 2017 | Kirk Ferentz News Conference Transcript (PDF)
By DARREN MILLER
hawkeyesports.com
IOWA CITY, Iowa — For the second time in three weeks, the University of Iowa football team will play for a traveling trophy. For the second consecutive week, the Hawkeyes will take on an opponent ranked No. 3 in at least one national poll.
 
It will be Iowa-Wisconsin on Veteran's Day from Camp Randall Stadium in Madison, Wisconsin. Since 2004, the teams have played for the Heartland Trophy — a bull mounted on a walnut base. Wisconsin (9-0 overall, 6-0 Big Ten) is ranked No. 3 in the Coaches Poll and No. 6 by The Associated Press. Iowa (6-3, 3-3) is No. 25 in the AP poll.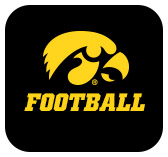 Trophy or not, the Iowa-Wisconsin series has traditionally been hotly contested. The Badgers have won four of the last five games to take a 45-43-2 lead in the all-time series. The Hawkeyes won, 10-6, on their most recent visit to Madison in 2015.
 
"Before the trophy came into being, this has always been a good border-state rivalry," Iowa head coach Kirk Ferentz said Tuesday at his weekly news conference in the Stew and LeNore Hansen Football Performance Center. "This one hopefully promises to be the same."
 
Iowa has won nine of its last 10 games involving a traveling trophy.
 
Wisconsin leads the Big Ten in scoring defense (13.3 points per game) and is third in scoring offense (36.1). The Badgers average a Big Ten-best 244.8 rushing yards per game, thanks in large part to true freshman running back Jonathan Taylor, who averages 152 rushing yards per game.
 
"This should be a big challenge for us," Ferentz said. "Obviously we're going to have to play our best football. We're going to need another week of improvement, great preparation, and most importantly, we're going to have to be ready to go when kickoff comes around on Saturday. This is a big challenge for us, but we're looking forward to getting there."
 
Kickoff is set for 2:30 p.m. (CT). The game will be televised by ABC.
 
In personnel news, junior safety Brandon Snyder will undergo surgery this week and will miss the remainder of the season.
 
IOWA GAME CAPTAINS
Senior linebacker Josey Jewell, senior split end Matt VandeBerg, senior outside linebacker Kevin Ward, and senior right guard Sean Welsh will serve as game captains for the Hawkeyes.
 
RECRUITING IN WISCONSIN
"We've always gone up there and seen what we could find. But for whatever reason, we've been able to get a couple players that have fit well with us and just the match was good. They were guys we thought were good players, and they liked what they found here, so it has worked out well. A couple of those guys have made it to the field now."
 
BADGERS ARE STRONG ON THE O-LINE
"I think they've got four guys back, so these guys are veteran guys now. They've played a lot. But I'll go back to a year ago, they played well with a lot of new faces in there, and they're well-coached. Seems like it's the same story every year. They're just really well-coached. Obviously they're huge. I haven't researched it, but I'm guessing they're probably bigger than most NFL lines. They're a big group. They're physical. They know what they do. They've got a system that's in place and been in place there and they know what they do, they know what they are, and they do it very, very well.
"They play with an attitude on top of it. They're an aggressive group. They're physical. As big as they are, they move well. They execute their assignments well, and every now and then catch a touchdown pass on top of it. I think linemen across the country are jealous that way. But it seems like every year they come up with a group that works hard and they're very cohesive. They play cohesively."
 
HAWKEYES ALSO STRONG ON THE O-LINE
"It's the same discussion. You just keep banging away. We're not doing any new drills or anything like that, and at some point things have to start coming together if you're going to be successful, and they did (Nov. 4 during a 55-24 win over Ohio State). But there's no assurance it's going to happen again this week. We've got another tough challenge. Hopefully that gives some of those younger guys confidence that they can do this, they belong here, and they shouldn't be overwhelmed."
To read the complete transcript of coach Ferentz's news conference, click HERE.