Hawkeye Fan Shop — A Black & Gold Store | 24 Hawkeyes to Watch 2017-18 | Hawk Talk Monthly — November 2017 | 2017 Football Tickets
By JAMES ALLAN
hawkeyesports.com
IOWA CITY, Iowa — Toren Young's first collegiate touchdown was a long time coming for the University of Iowa redshirt freshman running back.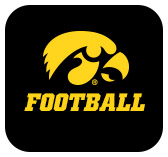 Young rushed five times for 47 yards late in the fourth quarter before finding the end zone for the Hawkeyes' final touchdown in a 55-24 dismantling of No. 3 Ohio State on Nov. 4 inside Kinnick Stadium. 
 
"I was excited," said Young. "It was my first (collegiate) touchdown; it has been a year-and-a-half since I have played. It was emotional for me; I almost started crying I was so happy.
 
"I have had people in my life that doubted me and told me I wouldn't be able to play at the Division I level. To be able to go out, play, and score my first touchdown, that means a lot to me."
 
Young will have a different set of emotions Saturday when 25th-ranked Iowa travels to Madison, Wisconsin, for a 2:30 p.m. (CT) matchup against No. 6 Wisconsin.  Young is a native of Madison, and he grew up in the shadows of the Badgers' Camp Randall Stadium.
 
"I lived 10-15 minutes from stadium," said Young. "I played there my sophomore year in the state championship game. It will be cool going back and playing in front of family, teachers, coaches, and friends.
 
"It's exciting for me. It will be different wearing the black and gold."
 
Young rushed for more than 5,100 yards during his prep career at Monona Grove High School, but he wasn't a highly-recruited prospect.  Young visited the hometown Badgers, but he never received an offer.
 
The Hawkeyes were Young's lone Division I offer.
 
"Throughout the whole recruiting process, I told myself I only needed one," said Young. "It takes one team to believe in you.  It was about finding the perfect fit and for (Wisconsin), maybe I wasn't that fit for them and that's OK.
 
"I found the spot and I love it here. I fell in love with it when I visited and I feel like this is the best spot for me."
 
Young doesn't hold any ill will for how his recruiting process panned out, but he uses it as a source of motivation.
 
"I look at it like I only had one offer," he said. "I wasn't a highly recruited kid. Iowa was one of the only teams that believed in me. As a whole, it's not just Wisconsin. I have that chip on my shoulder that there weren't a lot of teams that wanted me.
 
"Iowa took a chance on me and I want to embrace this opportunity and make the best out of it."
 
This weekend, Young will have droves of supporters at Camp Randall.  He can't give a definitive number, but he has received messages from a number of past teachers and youth coaches.
 
"A lot of them joke and say I hope you play well, but I hope the Badgers win," said Young, who is third on the team with 161 rushing yards on 34 carries. "I have a lot of support from family and people back home. I think I'll be able to convert a couple of those fans."
 
Saturday's game will be televised on ABC with Joe Tessitore, Todd Blackledge, and Holly Rowe on the call.