Hawkeye Fan Shop — A Black & Gold Store | 24 Hawkeyes to Watch 2017-18 | Hawk Talk Monthly — November 2017
By JAMES ALLAN
hawkeyesports.com
IOWA CITY, Iowa — The 2017 Hawkeye Challenge isn't a typical season-opening tournament for the University of Iowa women's basketball team.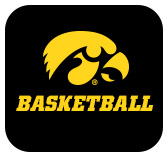 Not with three NCAA Tournament teams, including the 16th-ranked team in the country, coming to Carver-Hawkeye Arena for the two-day, four-team event.
 
"This isn't the traditional way a lot of people start their season," Iowa head coach Lisa Bluder said during a Wednesday news conference in Carver-Hawkeye Arena. "A lot of teams start their seasons with cupcakes; that's an easy win. This is a tremendous field for the opening weekend and we're going to be challenged."
 
The Hawkeyes begin the 2017-18 season Friday, hosting Quinnipiac at 5 p.m. (CT) on Mediacom Court.  The Bobcats were a Cinderella team last season, winning 29 games and advancing to the Sweet 16 before losing to the eventual national champion.
 
The other two teams in field are Western Kentucky and No. 16 Missouri.  The Hilltoppers won the Conference USA Tournament last season and finished with 27 victories, while Missouri won 22 games and advanced to the NCAA Round of 32.
 
"Why not try and challenge ourselves with the teams we are playing with the schedule we have?" junior Hannah Stewart said. "It's going to be awesome. We are lucky to play such good teams right away. It's going to get us good experience to get ready for the Big Ten season."
 
Bluder believes opening the season with sure-fire wins can give the team a sense of false confidence.  On the other side, she says playing quality competition early can help the team improve at a faster rate.
 
"You only learn from making mistakes, sitting back, and figuring out how to learn and benefit from that," said Bluder, whose next win will give her 700 for her coaching career. "There are teams that schedule cupcakes. The one thing is it gives you confidence, but it is kind of a false confidence because the first time you face adversity, you don't know how to handle that.
 
"If you play against good teams, they expose your weaknesses and then we can correct them earlier. We can learn from mistakes and have those weaknesses exposed earlier, which will hopefully help us down the line."
 
Sophomore Kathleen Doyle is excited about the early-season test. It can be a gauge for the team moving forward.
 
"Testing yourself against teams that were where you wanted to be at the end of the season is always a good idea at the beginning of the year," said Doyle. "Especially if you get a win, you can build confidence and continue growing as a team before Big Ten play begins."
 
Wednesday was also a big day for the Hawkeye future.  Iowa signed four preps — Tomi Taiwo (Carmel, Indiana), Kate Martin (Edwardsville, Illinois), Monika Czinano (Watertown, Minnesota), and Logan Cook (Iowa City, Iowa) — to National Letters of Intent.
 
"We are excited to get four Letters of Intent from four young women that will be great Hawkeyes in the future," said Bluder. "We went out and got players who play the two, three, four, and five positions. We have balanced class with the positions, but the guard play was important to us. 
 
"The fact that we're bringing in two is essential."
 
Friday's opening game will be streamed live on Hawkeye All-Access on hawkeyesports.com.  Jim Albrect and Jamie Cavey-Long will have the call.