Hawkeye Fan Shop — A Black & Gold Store | 24 Hawkeyes to Watch 2017-18 | Fight For Iowa | McCaffery Transcript (PDF)
By JAMES ALLAN
hawkeyesports.com
IOWA CITY, Iowa — Minutes are up for grabs for the University of Iowa men's basketball team with junior Nicholas Baer's hand injury sidelining him for 3-4 weeks.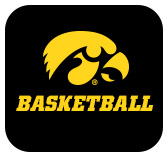 Junior Ahmad Wagner is ready to step up to the plate. He started Iowa's second exhibition against Belmont Abbey, but has averaged just 9.5 minutes in the two exhibition contests. He scored six points and grabbed three rebounds in two Iowa wins.
 
"Everyone is going to have to step up," said Wagner. "Nicholas is a good player. With him being in my position I will have to do more. We're all ready to do that and we're all prepared."
 
Baer is Iowa's ultimate energy guy. He makes transition 3s and hustle plays.  The team co-captain was the Big Ten's Sixth Man of the Year as a sophomore.
 
"I want to be able to bring and match his energy," said Wagner. "Nicholas comes in and makes plays immediately. With me being in the starting lineup, I'll have to make plays at the beginning of the game and whenever I am in there."
 
Wagner worked on his shot during the offseason, and he'll look to score if called upon, but he wants to be more of a facilitator.
 
"We have plenty of scorers and shooters… JBo (Jordan Bohannon), Isaiah (Moss), TC (Tyler Cook), and Luka (Garza)… they're all shooting the ball well," said Wagner. "If my number is called to be a scorer, I feel like I have worked on that a lot this offseason and I am prepared to take that role, but I am mostly focused on how I am going to get (my teammates) more shots and get them open."
 
Wagner wants his calling card to come on the defensive end.
 
"I start the game with defense, that's important to me," he said. "Not only my man not scoring, but all-around team defense. I want to be the leader on the defensive and offensive end and being able to orchestrate things to get the guys in the right position so we can have a better collective defensive performance."
 
Iowa head coach Fran McCaffery says Wagner will have to step up his game.  So will freshman Jack Nunge.
 
"It's going to be energy, offensive rebounding, and defense (for Ahmad)," McCaffery said during a Thursday news conference in Carver-Hawkeye Arena. "He is scoring, shooting, and driving the ball better.  He has always been a good guy off the dribble, making plays for others.
 
"We'll need that. If you want to play the three spot, you have to do that more than you are as a driving four."
 
The Hawkeyes open the 2017-18 season this weekend with two games in less than 48 hours. Iowa faces Chicago State in its regular season opener Friday at 8 p.m. (CT) before hosting Alabama State on Sunday at 3 p.m. 
 
Tickets are available at 1-800-IA-HAWKS or at hawkeyesports.com.