24 Hawkeyes to Watch – 2017-18 | WBB Tickets | Hawk Talk Monthly — November 2017 | Hawkeye Fan Shop — A Black & Gold Store – https://hawkeyefanshop.com/?utm_source=HawkeyeSports&utm_medium=HawkeyeSports&utm_campaign=HawkeyeSports
IOWA CITY, Iowa — University of Iowa junior forward Megan Gustafson has been named to the 2018 Katrina McClain Award Watch List, the Naismith Memorial Basketball Hall of Fame and the Women's Basketball Coaches Association (WBCA) announced Thursday.
Named after the two-time All-American and 1987 National Player of the Year, the inaugural award recognizes the top power forwards in women's NCAA Division I college basketball. Gustafson is one-of-20 student-athletes named to the watch list.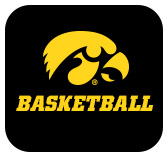 Gustafson, a Preseason All-Big Ten honoree, was a first team All-Big Ten selection in 2017 and named to the Big Ten All-Freshman Team in 2016.
The Port Wing, Wisconsin, native led the team in scoring (18.5), rebounding (10.1), and field goal percentage (64.7) last season. She scored in double figures in every game and paced the team in rebounds in 30-of-34 contests. Gustafson led the Hawkeyes in scoring 18 times, and registered a single-season school record 18 double-doubles.
On March 16, 2017, Gustafson became Iowa's single-season rebounding record holder. She finished the season with 343 rebounds, crushing former Hawkeye Amy Herrig's record of 306 (1998-99). Gustafson also became just the fourth Hawkeye in program history to score 600 or more points in a single season and the first to do so since 1990. She ended the year with 628 points — the most by a sophomore in program history.
Gustafson finished the season ranked fifth nationally in field goal percentage (64.7), 10th in double-doubles (18), 11th in field goal (260) and rebounds (343), 25th in rebounds per game (10.1), 26th in defensive rebounds per game (7), and 28th in points (628).
The Selection Committee for the Katrina McClain Award is composed of top women's college basketball personnel including media members, head coaches, sports information directors and Hall of Famers. By mid-February, the watch list will be narrowed to 10. In March, five finalists will be presented to Ms. McClain-Pittman and the Hall of Fame's selection committee. Fans will also have the opportunity to vote for their favorite finalist at www.hoophallawards.com.
The winner of the 2018 Katrina McClain Power Forward Award will be announced during ESPN2's telecast of the national semifinal games at the 2018 NCAA Women's Final Four in Columbus, Ohio, on Friday, March 30.
The Hawkeyes tip off the 2017-18 season Friday, hosting Quinnipiac in the annual Hawkeye Challenge. Tipoff is set for 5 p.m. (CT) in Carver-Hawkeye Arena.
2018 Katrina McClain Award Candidates
| | |
| --- | --- |
| Lauren Cox | Baylor |
| Kristine Anigwe | California |
| Camille Zimmerman | Columbia |
| Napheesa Collier | Connecticut |
| Leaonna Odom | Duke |
| Haley Lorenzen | Florida |
| G'mrice Davis | Fordham |
| Caliya Robinson | Georgia |
| Ashunae Durant | Hofstra |
| Megan Gustafson | Iowa |
| Myisha Hines-Allen | Lousiville |
| Erykah Davenport | Miami |
| Alex Johnson | Middle Tennessee |
| Jordan Frericks | Missouri |
| Ruthy Hebard | Oregon |
| Michelle Nwokedi | Penn |
| Bella Alarie | Princeton |
| Mael Gilles | Rutgers |
| Maria Jesperson | South Florida |
| Jatarie White | Texas |
     *Players can play their way onto and off of the list at any point in the 2017-18 season*