Hawkeye Fan Shop — A Black & Gold Store | 24 Hawkeyes to Watch 2016-17 | Fight For Iowa | Hawk Talk Monthly — September 2017
 
IOWA CITY, Iowa — University of Iowa head women's tennis coach Sasha Schmid announced Thursday that Samantha Mannix and Michelle Bacalla have signed a National Letter of Intent to join the University of Iowa women's tennis team in the fall of 2018.  
 
"Michelle and Samantha are outstanding young women with strong character who are dedicated to excelling academically and on the tennis court," said Schmid. "They will be terrific additions to our team in every way."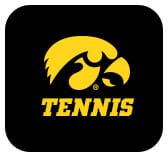 Bacalla is from Skokie, Illinois, and finished fourth in the Illinois High School State Championships her junior and senior seasons. She won two consecutive Baird Cup Championships, received four Central Suburban League All-Conference awards, and multiple sportsmanship awards. She is a four-star recruit and has a UTR of 10.
 
"Michelle has a heart of gold and she loves Iowa," said Schmid. "Her enthusiasm and spirit are contagious and she is going to be a hard worker and great competitor on the court for the Hawkeyes."
 
"Words cannot grasp the feelings I have for joining the Hawkeye family," said Bacalla. "I look forward to joining a team full of extraordinary players and amazing coaches. The University of Iowa is the perfect place for me to explore and grow as a student-athlete. I am truly blessed to have this opportunity and I would not have gotten to where I am now without family, friends, and coaches supporting me throughout this journey."
 
Mannix is from Elkhorn, Nebraska, and was the Omaha Tennis Association Junior Player of the Year in 2016 and 2017, as well as Nebraska's Junior Player of the Year in 2013, 2015, 2016, and 2017. She was also Lincoln Tennis Association Junior Player of the Year from 2012-2016. She won the Nebraska State High School Class B Championship in 2015 and 2016, and won the Class A Championship in 2017. Mannix was the USTA Missouri Valley Sweet 16 Champion in 2012, 2013 and 2017. She is undefeated (89-0) in her high school career. 
 
"Samantha is a talented tennis player and leader who will set the bar high in all areas of our program," said Schmid. "I love Samantha's offensive game. Her big forehand and serve are going to be great weapons for the Hawkeyes."
 
 "I am extremely honored and excited to make my commitment to Iowa official. I can't wait to compete and represent a school as amazing as the University of Iowa," said Mannix.
 
Bacalla and Mannix will join the team in the Fall of 2018.