Hawkeye Fan Shop — A Black & Gold Store | 24 Hawkeyes to Watch – 2017-18 | Fight For Iowa | Hawk Talk Monthly — November 2017 | Complete Results (PDF)
MINNEAPOLIS — The University of Iowa diving team concluded 1-meter and 3-meter diving Friday night at the Minnesota Diving Invitational.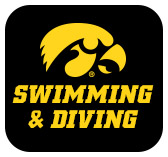 Off the women's 3-meter, freshman Jayah Mathews finished sixth off the 3-meter, finishing with a score of 297.45.  Mathews had the fifth-best score in prelims, posting a 282.90.
 
Sophomore Thelma Strandberg scored a 246.20 was 13th place. Senior Morgan Rafferty's finished with 240 points, while junior Jacintha Thomas had a 214.50 total.
 
Off the men's 1-meter, senior Matt Mauser paced the Hawkeyes, playing 15th in the preliminary round with a score of 259.50.  Freshman Anton Hoherz followed in 16th place scoring 254.55, while junior Will Brenner's score of 231.45 landed him in 21st.
 
Freshman Jonatan Posligua rounded out the men's side with a 225.35 for a 23rd place finish.
 
The Hawkeyes close out the Minnesota Diving Invitational with platform diving beginning tomorrow at 10 a.m. (CT).