24 Hawkeyes to Watch – 2017-18 | WBB Tickets | Hawk Talk Monthly — November 2017 | Hawkeye Fan Shop — A Black & Gold Store – https://hawkeyefanshop.com/?utm_source=HawkeyeSports&utm_medium=HawkeyeSports&utm_campaign=HawkeyeSports | Photo Gallery | Boxscore
By CHRIS BREWER
hawkeyesports.com
IOWA CITY, Iowa – What started as a slugfest ended in a one-sided knockout as the University of Iowa women's basketball team won its season opener, 83-67, against Quinnipiac on Friday night on Mediacom Court inside Carver-Hawkeye Arena.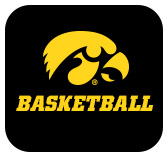 "It was an exciting way to begin the year," said UI head coach Lisa Bluder. "That fourth quarter was pretty good. Our defense finally dug in and played some really good defense."
 
The Hawkeyes won the fourth quarter 28-13 to run away from a Bobcat team that advanced to the NCAA Sweet 16 last season. It was a big statement for the Hawkeyes, and not just because of its significance — the win was career No. 700 for Bluder — but because it came against a strong opponent.
 
"We've never shied away from playing against good people," Bluder said. "We think that's what makes you better. It exposes your weaknesses early. You have to keep your confidence through that. Last year we had the best nonconference schedule in the entire Big Ten so it's something we do, and this tournament is obviously a tremendous tournament."
 
THE FINAL RUN
The Hawkeyes led by two after one quarter, were tied at the half, and trailed by one to start the third. A three-pointer by Tania Davis helped Iowa regain the lead, 60-59, and sparked a 12-3 run that extended the advantage to 69-62.
 
The Bobcats used a three-point play to pull back within four, 69-65, but the Hawkeyes owned the final four minutes, stringing together 14 consecutive points to take an 18-point lead into the final 37 seconds.
 
The run included a three-pointer from Alexis Sevillian, her third of the game, and five straight points from Megan Gustafson, who finished with her 28th career double-double.
 
"Megan got the and-one at the end and you could tell our energy was through the roof at that point," said Kathleen Doyle, who finished one rebound short of a double-double. "It was really discouraging for them and that was when I knew we were going to win the game."
 
BLUDER ON No. 700
"Every game is just one game, but anytime you have a milestone win it gives you time to reflect and look back and see all those people. I told the women in the locker room afterward that I've been able to coach a lot of great women, but this group is really special and I'm glad I got to share it with them."
 
STATS OF THE GAME
The Hawkeyes were 15-17 from the free throw line in the second half after getting to the line just two times in the first half.
Iowa held a 50-29 rebounding advantage, led by Gustafson's 15 and a career-high nine from Doyle.
Forward Hannah Stewart led Iowa with a career-best five assists.
UP NEXT
The Hawkeyes face Western Kentucky on Saturday in the finals of the Hawkeye Challenge inside Carver-Hawkeye Arena. Tip-off is scheduled for 4:30 p.m. (CT). Tickets are available at hawkeyesports.com/tickets.