Hawkeye Fan Shop — A Black & Gold Store | 24 Hawkeyes to Watch – 2017-18 | Fight For Iowa | Hawk Talk Monthly — November 2017 | Purdue Game Tickets
By DARREN MILLER
hawkeyesports.com
IOWA CITY, Iowa — The kitchen table at Cornelia William's home will soon feature another framed photograph.
 
William is the mother of University of Iowa running back James Butler. Currently on her kitchen table rests an image from Butler's football Senior Day at Saint Francis High School in Wheaton, Illinois. Next to it is his college diploma.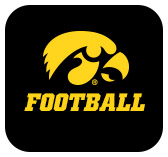 "It's on my mom's kitchen table, so I see it every time I go home," Butler said of the photo. "She has that picture right next to me degree. That is pretty cool."
 
Butler will take his final Senior Day photo Saturday when the Hawkeyes host Purdue inside Kinnick Stadium. It will cap an interesting season/career for Butler as a Hawkeye.
 
He came to Iowa City as a graduate transfer from Nevada, where he rushed for 3,313 yards in three seasons and was named All-Mountain West. Four games into his first and only season at Iowa, Butler dislocated his right elbow. The injury occurred during a 31-14 win against North Texas on Sept. 16, forcing him to miss games against Penn State, Michigan State, Illinois, and Northwestern.
 
In Iowa's six other games, Butler has rushed for 290 yards and an average of 4.5 yards per attempt. He has caught three passes for 45 yards. Butler picked up 74 rushing yards against both North Texas and Ohio State.
 
"I wouldn't say I played up to my full potential; I'm disappointed in my play," Butler said. "I wish I could have helped the team more, but I will continue and try to play my game and role the best I can."
 
As for the injury?
 
"I don't like to make excuses, but I wouldn't say it helped," Butler said. "Playing with the brace, now I have to be more cautious with the ball and where I can go."
 
Despite having his window of playing opportunity significantly reduced because of injury, Butler decided against filing for a medical redshirt. It was a difficult choice.
 
"I was 50-50 right up until the day before I played against Minnesota," Butler said. "There wasn't any pain in my elbow, so that was the biggest thing. I felt if I could play, then I want to help this team win as much as possible."
 
In back-to-back home victories, he carried the ball 11 times for 28 yards against Minnesota and 10 times for 74 yards against Ohio State. Those wins allowed the Hawkeyes to become bowl eligible and crack the national polls.
 
"It was great that I got to play against Minnesota and then beat Ohio State," Butler said. "That was nice and it will be something I can tell my kids someday."
 
Butler never thought his collegiate Senior Day would be in Kinnick Stadium. He enjoyed his years at Nevada, but the University of Iowa was always his dream destination. The proximity to his mother's home in Illinois also meant she could attend a majority of Hawkeye games and enjoy her son's final ride.
 
"She has been to every game," Butler said. "I think the one game she won't go to is Nebraska because that one is kind of far away for her and it's right around Thanksgiving, so it will be tough. I'm glad I get to see her every weekend."
 
Butler is prepared for an emotional pregame on Saturday. He has visualized the scene in his mind: jog out of the tunnel to greet family, hand his mother a rose, and pose for a group photograph.
 
It's a photo that will soon rest on William's kitchen table.