Hawkeye Fan Shop — A Black & Gold Store | 2017 Football Season Tickets | Kinnick Edge | Fight For Iowa | Freshman Spotlight: Geno Stone | Freshman Spotlight: Ihmir Smith-Marsette | Freshman Spotlight: Ivory Kelly-Martin | Freshman Spotlight: Matt Hankins | Freshman Spotlight: A.J. Epenesa | Freshman Spotlight: Tristan Wirfs | Freshman Spotlight: Noah Clayberg | Freshman Spotlight: Ryan Gersonde | Freshman Spotlight: Max Cooper | VIDEO — Peyton Mansell | Freshman Spotlight: Brandon Smith
Editor's Note: The following first appeared in the University of Iowa's Hawk Talk Daily, an e-newsletter that offers a daily look at the Iowa Hawkeyes, delivered free each morning to thousands of fans of the Hawkeyes worldwide. To receive daily news from the Iowa Hawkeyes, sign up HERE.
By DARREN MILLER
hawkeyesports.com
 
IOWA CITY, Iowa — The package arrives each week to Peyton Mansell's dormitory on the University of Iowa campus. It's from his mother, Kim, who is helping her freshman son embrace his role on the Hawkeyes' scout team.
 
Some parents send their college-aged children cookies, Kim sends stickers.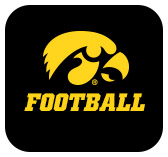 Peyton Mansell, a 6-foot-3, 210-pound quarterback, felt moved when strength and conditioning coach Chris Doyle preached commitment. This year Mansell is committed to giving Iowa's first-team defense a daily look at every upcoming opponent.
 
The authentic look includes visual aids.
 
Mansell's mother owns a printer that can produce decals and signs. Each week she makes a handful of decals for Iowa's upcoming opponent and drops them in the mail. Peyton distributes to as many scout team members as possible and they are quickly affixed to helmets before the Hawkeyes hit the practice field.
 
This week it is a white, script letter P, representing the Purdue Boilermakers.
 
"She is happy to do it," Mansell said. "We started with three or four sets, then a bunch of guys wanted them, so she began mailing 20 sets each week."
 
From Nov. 12-17, Mansell impersonates Purdue quarterback Elijah Sindelar in practice and he relishes his role.
 
"I have heard stories about how a bunch of great players have gone through and played on the scout team," Mansell said. "I love it right now; I get to play against a Big Ten defense every week — one of the best defenses in the nation — and then I am getting to grow as a football player. I get to see how the speed of the game is and I'm getting to learn a lot about the defenses."
 
Mansell joined the Hawkeyes from the football-crazed state of Texas. He was a two-year starter for Belton High School, where he threw for 4,234 yards and 53 touchdowns and rushed for 1,848 yards. His high school coach was Bob Shipley, father of Jordan and Jaxon, who played for the Longhorns while former Iowa offensive coordinator Greg Davis was on the staff in Austin.
 
Davis watched film on Mansell, then watched practice, then became hooked. Iowa offered a scholarship and Mansell committed the summer prior to his senior season.
 
Before Mansell enrolled at Iowa, Davis retired and Brian Ferentz assumed duties as offensive coordinator. A connoisseur of everything football, Mansell made his way to Iowa City during spring drills, stayed with Jacob Coons, another Hawkeye signee at his home in Solon, and absorbed as much Hawkeye practice as time allowed.
 
"When coach Brian Ferentz took over, I wanted to come up and see what the offense was going to be like and start learning a few things," Mansell said.
 
He has proven to be a quick learner. Iowa head coach Kirk Ferentz says Mansell has grown in every phase of the program and has exerted leadership by jumping in with both feet and embracing his scout team role.
 
"He throws the ball well and moves his feet pretty well, too," Ferentz said. "The biggest thing is the improvement we have seen. He was raw, but it was a total transformation in terms of the kind of (offensive) system and style of play (from high school to college), so that was a little different for him.
 
"He has made good transition and we will be eager to watch him in December to see how he progresses in that month."
 
December, February, April, September…regardless of month, there is a 100 percent chance that Mansell is thinking football. He calls it a culture difference between student-athletes in Texas and those in northern schools, where being a multi-sport athlete is more typical.
 
"I played football and ran track (in high school)," Mansell said. "Running track was to get faster for football. Everything I do is for football; it is in my head, I am always thinking about it and watching it."
 
And he is currently content with his position on the depth chart, where sophomore Nate Stanley is the starter. In 10 games, Stanley has thrown for 1,970 yards and 22 touchdowns.
 
"(The scout team) is not where you would think I would want to be, but Nate is doing a great job and this is where the team needs me," Mansell said.
 
While Stanley will do his best to lead the Hawkeyes to a Senior Day victory inside Kinnick Stadium on Saturday, Mansell will be studying formations, plays, and defensive alignments.
 
And getting ready to receive the next package in the mail from his mother. On Sunday, Mansell transforms into Nebraska's Tanner Lee…complete with a red N on his helmet.