Hawkeye Fan Shop — A Black & Gold Store | 24 Hawkeyes to Watch 2017-18 | Kinnick Edge | Ferentz Transcript (PDF)
By JAMES ALLAN
hawkeyesports.com
 
IOWA CITY, Iowa — Kirk Ferentz's charge to the University of Iowa football team is to finish off the month of November.
 
The Hawkeyes opened the 11th month of the year with a 55-24 thrashing of No. 3 Ohio State.  In the two weeks since, Iowa was on the short end of a 38-14 loss at No. 6 Wisconsin and a 24-15 setback in its home finale against Purdue.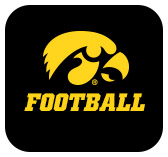 "Our goal is to finish the month the way we started it, and that's on a positive note," Ferentz said during a Tuesday news conference in the Stew and LeNore Hansen Football Performance Center.
 
Iowa heads to Lincoln, Nebraska, for a Black Friday matchup against Nebraska at 3 p.m. (CT) from Memorial Stadium.  The Hawkeyes are jockeying for bowl position with records of 6-5 overall and 3-5 in the Big Ten; the Huskers are 4-7, 3-5.
 
"This game gives us a chance to build our bowl resume," said Ferentz. "The more you win, the better off you are. It is equally important to go into the bowl preparation part of the season on a positive note.
 
"Nebraska has a lot to play for. They are a storied program in college football and they have a lot of pride. We expect nothing but their best shot Friday."
 
The Huskers have dropped three straight and five of their last six games since starting the season 4-1.  Last weekend, Nebraska put up 44 points in a 56-44 setback at No. 13 Penn State.
 
"They have a quarterback that is a good thrower," said Ferentz. "He has been very productive throwing the football. Defensively, they present a little bit of a challenge with their 3-4 scheme.
 
"On special teams, they have good specialists. They're a team that has a lot of ability in all three phases, and we certainly have a challenge in front of us that way."
 
Nebraska quarterback Tanner Lee is averaging 267.1 passing yards.  He has completed 57.9 percent of his attempts for 2,938 yards with 21 touchdowns, but he has been intercepted 13 times.  Four different Huskers have 30 or more receptions with JD Spielman leading the team with 55 receptions for 830 yards.
 
On the other side of the ball, Nebraska's defense has been gouged for an average of 289.2 rushing yards over the past six games. Five of the six opponents have rushed for more than 200 yards (Purdue had 199) and three opponents had more than 600 yards of offense.
 
It could be the perfect recipe for an Iowa offensive unit that has been held to 107 combined rushing yards the last two weeks.
 
"Everybody has to execute for us to have a good opportunity to run the football," said Ferentz. "That's the running backs, tight ends, linemen, and the receivers are part of that. If they're getting in there doing a good job, that gives you a chance to break something.
 
"Nothing has been easy for us and we haven't done anything consistently well.  That's the goal, to execute it and go out and do it Friday."
 
The winner of Friday's game will take possession of the Heroes Trophy. Iowa has won two straight and three of the last four meetings.  The lone Husker victory came in 2014 — a 37-34 overtime triumph in Iowa City.
 
"This is a special game," said Ferentz. "All trophy games are important and they always have been. We have a chance to go out and try to claim another one. That's important."
 
Friday's game will be televised on FS1 with Mark Followill and Danny Kannell on the call.