IOWA CITY, Iowa – – FormerUniversity of Iowa linebacker Chad Greenway will receive the 2017 Big Ten Conference Dungy-Thompson Humanitarian Award.  The announcement was made by the Big Ten office Wednesday.
In addition, the Big Ten announced that former Wisconsin student-athlete Troy Vincent will receive the Ford-Kinnick Leadership Award.  These awards recognize Big Ten football student-athletes who have achieved success in the areas of leadership and humanitarism following their academic and athletic career at a Big Ten university.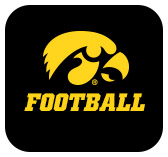 Greenway, a native of Mount Vernon, South Dakota, earned four letters as a linebacker at Iowa from 2002-05, earning All-America and first-team All-Big Ten honors in 2004 and 2005, as well as second-team all-conference plaudits in 2003. He was also instrumental in helping the Hawkeyes earn a share of Big Ten Championships in 2002 and 2004, and receive invitations to four bowl games, winning the 2004 Outback and 2005 Capital One bowls. 
Greenway was a semifinalist for the Chuck Bednarik Defensive Player of the Year Award and the Butkus Award, and a quarterfinalist for the Lott IMPACT Trophy as a senior.  Greenway shared Iowa's Most Valuable Player Award and was a permanent team captain, along with earning the Hayden Fry "Extra Heartbeat". Iowa posted an overall record of 38-12 during his career, including a 25-7 mark in Big Ten play.
After graduating from Iowa in 2006 with a degree in communications studies, Greenway was the 17th player selected in the 2006 NFL Draft.  He spent 11 seasons in the NFL, all with the Minnesota Vikings. He was a two-time Pro Bowl choice and a second-team All-Pro honoree in 2012, while also leading the National Football Conference (NFC) in combined tackles in 2010.  He ranks fourth in Vikings history with 1,334 tackles, and fourth in career starts by a linebacker (144).  His 11 career interceptions rank fifth in Vikings history for linebackers.
Greenway has been a fixture in the Minneapolis-St. Paul community throughout his professional career, a dedication that earned him the NFLPA's Byron "Whizzer" White NFL Man of the Year Award in 2015 and a nomination for that season's Walter Payton NFL Man of the Year Award.  Greenway was recognized this fall by the Iowa Farm Bureau as a member of Iowa's ANF Wall of Honor.
In 2008, Greenway and his wife, Jenni (a former track standout at Iowa) established the Lead The Way Foundation, offering daily support and life-changing experiences to chronically and critically ill and physically-challenged children in the Twin Cities area. Since its inception nearly a decade ago, the Lead The Way Foundation has raised more than $2 million in donations and assisted nearly 375,000 people in the Twin Cities through a variety of outreach programs.  The Greenways have four children, Maddyn, Beckett, Blakely, and Carsyn.
The Ford-Kinnick Leadership and Dungy-Thompson Humanitarian Awards are part of the Big Ten's annual awards program. The Ford-Kinnick Leadership Award is named for Michigan's Gerald Ford and Iowa's Nile Kinnick. The Dungy-Thompson Humanitarian Award is named for Minnesota's Tony Dungy and Indiana's Anthony Thompson. For more information on these awards, including biographical information on the namesakes, visit bigten.org.
Ford-Kinnick Leadership Award Recipients
2011: Archie Griffin, OSU
2012: Jon Runyan, MICH
2013: Gene Washington, MSU
2014: Mike Hopkins, ILL
2015: Brian Griese, MICH
2016: Reggie McKenzie, MICH
2017: Troy Vincent, WIS
Dungy-Thompson Humanitarian Award Recipients
2011: George Taliaferro, IND
2012: Chris Spielman, OSU
2013: Drew Brees, PUR
2014: Brian Griese, MICH
2015: John Shinsky, MSU
2016: Trent Green, IND
2017: Chad Greenway, IOWA