Hawkeye Fan Shop — A Black & Gold Store | Kinnick Edge
Editor's Note: The following first appeared in the University of Iowa's Hawk Talk Daily, an e-newsletter that offers a daily look at the Iowa Hawkeyes, delivered free each morning to thousands of fans of the Hawkeyes worldwide. To receive daily news from the Iowa Hawkeyes, sign up HERE.
By JACK ROSSI
hawkeyesports.com
 
IOWA CITY, Iowa — It was in the middle of the 2014 season when Akrum Wadley made his University of Iowa debut. It was a small sample size, but he showed glimpses of what his future held.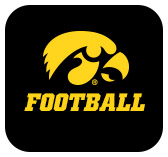 That first look came in his third career game against Northwestern that resulted in a Big Ten Freshman of the Week honor. Fast forward to Nov. 24, 2017, and Wadley has cemented himself as an all-time running back at Iowa with one bowl game remaining in his collegiate career.
 
"Its big time," Wadley said.
 
Wadley rushed for 159 yards and three scores as the Hawkeyes pummeled Nebraska on Saturday in their largest win in series history.
 
"It was fun," Wadley said. "For the first time in a few weeks our offense was clicking on all cylinders. The line was pushing, the tight ends were blocking, and the wide receivers were going downfield and sacrificing their bodies."
 
Wadley wiggled his way into the top-five in career rushing touchdowns (fourth) and total touchdowns (third) and he became the fourth running back in program history to accumulate back-to-back 1,000-yard seasons.
 
"That's big time to me," Wadley said. "I set my goals at the beginning of the season and one of my goals was to get over 1,000. I didn't get as much as I wanted to, but to be back-to-back is big time for me."
 
Wadley has been Nebraska's kryptonite the past two seasons. After rushing for 105 yards on 11 carries last year at Kinnick Stadium in a 40-10 Iowa victory, Wadley became the third opposing player in the last 20 seasons to post 150 or more rushing yards and three scores inside Memorial Stadium.
 
Iowa has won three straight against Nebraska and now lead the Heroes Trophy series 4-3.
 
"We knew we were going to face some adversity and we knew we had to keep swinging and that's what we did," Wadley said.
 
Throughout his career, Wadley was honored by the Big Ten on six different occasions, including being tabbed as the Big Ten Offensive Player of the Week after a four touchdown performance against Northwestern in 2015.
 
It was a game that shifted the course of Wadley's career.
 
"That Northwestern game was a turning point in his career and he has played well ever since," said Iowa head coach Kirk Ferentz. "We weren't sure how it was going to turn out, but Akrum has ability."
 
It was not easy process for Wadley, and with all things Iowa football, it was a process.
 
"The one thing about him is that he is a guy with good attitude who likes football," Ferentz said. "It was a matter of him working on things day-by-day and week-by-week. He has been a big part of the success we've had the past couple years."
 
The Hawkeyes will learn their bowl destination Dec. 3.