Hawkeye Fan Shop — A Black & Gold Store | Fight For Iowa | Hawk Talk Monthly — November | McCaffery Transcript (PDF)
By JAMES ALLAN
hawkeyesports.com
IOWA CITY, Iowa — It's early December and the start of Big Ten Conference play is here for the University of Iowa men's basketball team.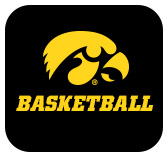 The Hawkeyes open league play Saturday, hosting Penn State at 4 p.m. (CT) on Mediacom Court inside Carver-Hawkeye Arena.  It is Iowa's earliest conference game in history.
 
"It's different and exciting at the same time," said junior Nicholas Baer. "We're going to get a chance to play good competition, at home, and start our Big Ten campaign. It's a lot to be excited about and hopefully we'll see a lot of Hawkeye fans."
 
Iowa is 4-3 overall after falling 79-55 on Thursday at Virginia Tech in the Big Ten/ACC Challenge.  The game was tied at 38 at the half before the Hokies controlled the second half, outscoring the Hawkeyes, 41-17, to run away 24-point winners.
 
"We were inconsistent in a lot of areas," Iowa head coach Fran McCaffery at a Friday news conference in Carver-Hawkeye Arena. "There were times when we did everything we wanted to do and there were times where we didn't do anything we were supposed to do.  That's concerning and we have to get that straightened out."
 
Part of Iowa's inconsistency can be attributed to injury.  The Hawkeyes haven't played a regular-season game at full strength with Ahmad Wagner, Connor McCaffery, and Baer all missing game action.
 
Connor McCaffery will be the only Hawkeye still missing Saturday. The freshman guard, who hasn't played during the regular season following a bout with mononucleosis, is expected to be cleared to practice Monday.
 
Penn State is 6-2 overall, but the Nittany Lions have lost two of their last three games.  All five Penn State starters average double figures, including sophomore Tony Carr, who ranks second in the Big Ten with a 21.3 scoring average.
 
"They have great guard play with Tony Carr," said sophomore Jordan Bohannon. "He's putting up between 20 and 25 shots a game and is scoring an outrageous amount of points every game. He's someone we need to lock in on.
 
"Their other guards — Shep Garner and Josh Reaves — are key guards that make their team go. They have a lot of pieces this year that they didn't have last year. It's going to be a tough game."
 
Iowa is 17-3 all-time against Penn State in Carver-Hawkeye Arena, including winning 12 straight home meetings.  Last season the Hawkeyes won 90-79 in the regular-season finale. 
 
Even though the Hawkeyes are 1/5 of the way through the 2017-18 season, Bohannon believes it is still early and the team can find its footing. He points to last season when Iowa started 3-5 through eight contests.
 
"There is a lot we can accomplish," said Bohannon. "Last year we were in a major slump, got back, and were on the bubble, one game from being an NCAA Tournament team.
 
"We have worked too hard to get to this point to have us be defined by a couple of games to start the season. We've worked countless hours to be here and we can't let anything from the outside get us down. We have to keep working and make the most of it."
 
That means starting well in Big Ten Conference play.
 
"(This game) has greater importance being that it's a conference game," said McCaffery. "I don't think there is any question about that."
 
Saturday is Star Wars Day at Carver-Hawkeye Arena. Fans are encouraged to wear their Star Wars-themed apparel. Tickets are available at hawkeyesports.com/tickets, and the game will be televised on BTN with Brandon Gaudin and Stephen Bardo on the call.