Hawkeye Fan Shop — A Black & Gold Store | Fight For Iowa | 24 Hawkeyes to Watch 2017-18 | Hawk Talk Monthly – December 2017 | Results
MINNEAPOLIS — The University of Iowa swim team posted multiple career-bests and two wins during Friday's night session of the Minnesota Invitational at the Jean Freeman Aquatic Center.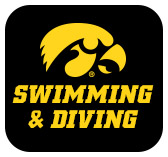 The Hawkeyes swam six events on day two — 400-IM, 100-fly, 200-free, 100-breast, 100-back, and 200-medley relay. Eleven Iowa swimmers posted "B" standard qualifying times.
 
MEN'S HIGHLIGHTS 
Michael Tenney recorded his second win and posted a career-best to start the session. The sophomore posted an NCAA "B" standard time of 3:52.54 in the 400-IM.
 
Senior Chris Dawson touched in third in the event with a time of 3:55.66, while Garrett Hoce posted a career-best of 3:57.70 to finish fifth. 
 
Junior Kenneth Mende posted a win in the 100 back with a time of 47.28. Thomas Rathbun and Jacob Rosenkoetter each posted career-bests in the event with times of 50.26 and 50.66, respectively.
 
Senior Jerzy Twarowski registered a runner-up finish in the 100-fly, while posting a season-best time of 47.76. Michal Brzus swam a career-best, finishing fourth with a time of 47.88. 
 
Freestyler Jack Smith was Iowa's top-performer in the 200-free, touching in at 1:38.33. Tenney finished just behind Smith posting another career-best with a time of 1:38.66 in the event. Freshman Daniel Swanepoel led the Hawkeyes in the 100-breast with a career-best time of 53.74 to give him a second place finish. 
 
WOMEN'S HIGHLIGHTS 
Freshman Kelsey Drake's NCAA standard time of 53.82 gave her a third place finish and another career-best in the 100-fly. Jo Jekel and Meghan Hackett also posted career-best times in the event. 
 
Hannah Burvill swam to a runner-up finish in the 200-free and broke her career-best with a time of 1:45.82. Allyssa Fluit, Mallory Fox, and Morgan Grout also marked career-best performances in the event. Burvill would also lead the Hawkeyes in the 100-back with a career-best of 53.93. 
 
In the 100-breast, Shea Hoyt and Drake led the team with times of 1:03.37 and 1:03.70, respectively. 
The relay of Jekel, Hoyt, Mekenna Scheitlin, and Meghan Lavelle touched in at 1:41.85 in the 200-medley relay taking third, while Natalie McGovern, Sage Ohlensehlen, Drake, and Samantha Sauer finished fourth with a time of 1:44.05. 
 
UP NEXT 
The Hawkeyes close out the Minnesota Invitational tomorrow with prelims beginning at 9 a.m. (CT), followed by finals at 5 p.m. 
 
FOLLOW THE HAWKEYES 
For an inside look at the Iowa swimming and diving program and access to exclusive coverage, "like" Iowa Swimming and Diving on Facebook and follow @IowaSwimDive on Twitter and @hawkeyeswimdive on Instagram.