Hawkeye Fan Shop — A Black & Gold Store | Kinnick Edge | Hawk Talk Monthly — Dec. 2017 | Pinstripe Bowl Web Site | Official Bowl Tour site | Pinstripe Bowl Tickets | Photo Gallery
By JAMES ALLAN
hawkeyesports.com
 
BRONX, N.Y. — New York Yankees President Randy Levine tabbed the 2017 New Era Pinstripe Bowl as a battle of the birds.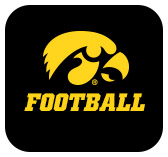 Herky the Hawk and the University of Iowa will face Baldwin the Eagle and Boston College on Dec. 27 inside Yankee Stadium.  The game will begin at 4:15 p.m. (CT).   
 
"To have Iowa here is exciting," said Levine during a New Era Pinstripe Bowl news conference at Yankee Stadium. "Iowa is a marquee name in the Big Ten and they haven't been east in years.  This is the battle of the birds and we are going to have a good matchup. It will be very interesting."
 
Levine was joined at the news conference by Lonn Trost (Yankees' Chief Operating Officer), Mark Holtzman (New Era Pinstripe Bowl Executive Director), and Bill Adams (New Era Vice President of Special Projects). 
 
Boston College representatives Vaughn Williams (Associate AD) and head coach Steve Addazio were joined by Henry B. and Patricia B. Tippie Athletics Director Chair Gary Barta and Iowa head coach Kirk Ferentz.
 
The Hawkeyes and Eagles are both 7-5 overall. Iowa enters its 16th bowl game of the Ferentz era following a 56-14 victory at Nebraska in its regular-season finale. The Eagles are winners of five of their last six games.
 
"What a great matchup we have," said Holtzman. "It seems like with the New Era Pinstripe Bowl the stars seem to come together in the right way. Iowa is one of the Big Ten's crown jewels against the East Coast power in Boston College."
 
Barta is excited for the opportunity for the Iowa student-athletes to experience one of the world's greatest cities during the holiday season.
 
"I want to thank the Steinbrenner family and the entire organization," said Barta. "Our student-athletes will get the experience of playing football in one of the iconic sports venues in the world and they will get a chance to come to a city during the Christmas holiday that is second to none."
 
"Most of our kids on our team are from the Midwest," said Ferentz. "This experience will be a different thing for them and to be here over the holidays is outstanding. I am excited for our players; I don't think they have any concept about what they're going to encounter."
 
Barta says Iowa's Win. Graduate. Do It Right. mantra aligns with the Pinstripe Bowl and the Yankees' organization.
 
"Our student-athletes win, graduate, and do things the right way," said Barta. "That's what the Yankees brand and the Yankees represent. We couldn't be more thrilled to be invited to this game."
 
Levine stressed the uniqueness of being in the Big Apple during the holiday season.  He urged the Hawkeye faithful to make their way to NYC for a memorable experience.
 
"To all the people in Iowa, this will be a great place for you to come to visit," said Levine. "It's affordable and during the holidays, it will be magnificent. This will be a vacation and an experience you will remember forever."
 
After all, it will be the battle of the birds… in Yankee Stadium.
The University of Iowa Athletics Ticket Office is accepting online bowl orders at hawkeyesports.com/tickets. Fans may also order tickets by calling 1-800-IAHAWKS Monday – Friday from 9 a.m. to 5 p.m. Priority-point order deadline is Friday, Dec. 8 at 5 p.m.
 
Official bowl travel packages are available atiowasportstours.com. For more information visit: pinstripebowl.com.