Hawkeye Fan Shop — A Black & Gold Store | 24 Hawkeyes to Watch 2017-18 | WBB Tickets | Hawk Talk Monthly — December
By JAMES ALLAN
hawkeyesports.com
 
IOWA CITY, Iowa — Megan Gustafson is from Port Wing, Wisconsin, Tania Davis is from Flint, Michigan, and Kathleen Doyle is from LaGrange Park, Illinois, but for one week a year, it's like they are native Iowans.
 
That week is now; it's Cy-Hawk Week.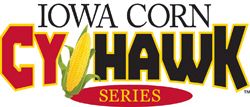 The University of Iowa women's basketball team will travel to Ames, Iowa, on Wednesday to face Iowa State at 6:30 p.m. (CT) in an Iowa Corn Cy-Hawk Series matchup inside Hilton Coliseum.
 
"You learn about this rivalry quickly," said Gustafson, who is averaging 22.3 points and 12.7 rebounds. "It feels like this week that all of us on the team are from Iowa because it's such a big rivalry. We respect (Iowa State) so much, but we're going to go in there and give them our best shot."
 
Iowa is 8-1 overall with its only loss coming against No. 13 Florida State on Nov. 29 in Carver-Hawkeye Arena.  Iowa State has dropped three straight contests — all three away from Hilton Coliseum — to fall to 3-4 overall. 
 
On paper, the Hawkeyes could be considered the favorite to end their Hilton Coliseum losing streak, one that dates back to 1989.
 
"Those records don't mean anything because this is a Cy-Hawk Series game," said Davis. "Our current records don't mean anything because this is a big rivalry game and everyone will be hyped.
 
"Our team will be hyped and their team will be hyped because they want to protect their home court. You have to throw out the records and go play ball."
 
Davis remembers her first game in Hilton Coliseum. She remembers the atmosphere, but the memory is vivid more so because the Hawkeyes lost. It was a 69-66 setback — Iowa's closest margin in the series in Ames since winning in 1989.
 
"We lost; that's all I'll remember and all I need to remember," said Davis. "I don't want that feeling again. Hilton is a tough environment to play in because they draw a great crowd. We're going to have to go on the road and face adversity.
 
"It will be a good test for us. We have been on a high and haven't had any road games. It will be a true road game, and I am looking forward to going into Hilton and bringing our best."
 
The home team has won 15 of the last 16 games in the series.  For Iowa to end its Ames drought, Gustafson says the Hawkeyes need to do what they do best.
 
"We need to be confident and stick to what we do," said Gustafson. "Sometimes if there is a big pressure game, a lot of teams can waiver from what they do best. If we are confident with each other and believe in each other, we will be fine.
 
"Both teams will give their best shot, and hopefully we'll come out on top."
 
Wednesday's game will be available on Cyclones.tv and on the Hawkeye Radio Network with Rob Brooks and Jamie Cavey Lang on the call.