Hawkeye Fan Shop — A Black & Gold Store | Kinnick Edge | Hawk Talk Monthly — Dec. 2017 | Pinstripe Bowl Web Site | Official Bowl Tour site | Pinstripe Bowl Tickets | Video | Photo Gallery
By DARREN MILLER
hawkeyesports.com
 
ATLANTA — Josh Jackson is the second finalist from the University of Iowa for the Paycom Jim Thorpe Award in the past three seasons. Desmond King received the honor as the nation's best defensive back in 2015 and Jackson is one of three finalists this season.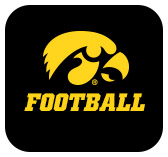 Jackson's resume exceeds most: national leader in passes defended (25) and tied for the national lead with seven interceptions. From 2014-16, he watched King set a standard for the younger Hawkeye defensive backs. Now it is the redshirt junior from Corinth, Texas, who leads.
 
"The sky was the limit for me," Jackson said Wednesday from the College Football Hall of Fame. "My roommate Miles (Taylor) and I — after the (30-3 loss to Florida in the 2017) Outback Bowl — put in the work and we both set high goals for ourselves. I wanted to make sure I could come here and be a leader in my first year starting. I wanted to be accountable and come out and play hard and try to have the best season I could."
 
Jackson's first career start came against the Gators in the Outback Bowl and he responded with three tackles and one tackle for loss. In 12 starts this season, Jackson is tied for fifth on the team (with his roommate Taylor) with 47 tackles. He has 18 pass breakups to go with the seven interceptions.
 
Recently, Jackson was named first-team All-Big Ten Conference and the Tatum-Woodson Defensive Back of the Year.
 
He faced national media Wednesday on the eve of the Home Depot College Football Awards ceremony where the soft-spoken Jackson recounted a season highlight: "being able to run out with my brothers in the Swarm."
 
Jackson has been humble from the season opener against Wyoming, when he had a 41-yard interception return, through a three-interception game against Ohio State, through a game at Wisconsin where he returned two interceptions for touchdowns.
 
Since he isn't keen on talking himself up, many conference foes, who are also up for national awards, did the talking for him.
 
J.T. Barrett, Ohio State. Finalist for Davey O'Brien Award presented to the nation's best quarterback:
"One of the things that was good about (Jackson) was his ability to react in zone coverage. It was good what they asked him to do at Iowa: playing zone, being able to read routes and different combinations, and being able to break and make plays."
 
Saquon Barkley, Penn State. Finalist for Doak Walker Award present to the nation's premier running back:
"Josh Jackson is a great player. I got to see him play more throughout the season — the Ohio State game he had three picks and one was a one-hander. I'm sure he took a couple to the house, this season, too. Iowa's defense is a real good defense."
 
Jonathan Taylor, Wisconsin. Finalist for Doak Walker Award present to the nation's premier running back:
"Iowa had a great defense, a very physical team. That is one thing we knew going into the game: it was going to be a physical game. Joshua Jackson, watching film on that guy, we knew he was a playmaker, we knew he was athletic and wherever the ball is, he is around it.
 
"We had to try to keep the ball away from that guy, because he is going to make a play. That is one of the things you do when you have a great player on the opposite team. You know there will be opportunities where they can make plays and you try to limit those big plays."
 
The Paycom Jim Thorpe Award winner will be announced Thursday beginning at 6 p.m. (CT). The show, which is televised on ESPN, originates from the College Football Hall of Fame. Other finalists are DeShon Elliott of Texas and Minkah Fitzpatrick of Alabama.