Hawkeye Fan Shop — A Black & Gold Store | Kinnick Edge | Hawk Talk Monthly — Dec. 2017 | Pinstripe Bowl Web Site | Official Bowl Tour site | Pinstripe Bowl Tickets
By DARREN MILLER
hawkeyesports.com
 
ATLANTA — Josh Jackson and other college football awards finalists took the city of Atlanta by storm Wednesday and Thursday.
 
On Friday a storm hit the area, actually it was a light smattering of snow and rain. But neither Atlanta nor its airport were ready for a quick weather change. Hundreds of flights were canceled at Hartsfield-Jackson Atlanta International Airport, sending the University of Iowa All-America cornerback on a wild 32-hour excursion before he returned to Iowa City.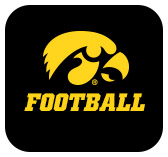 During that time, Jackson called several audibles while boarding and de-boarding two planes that never left a runway. Because there was no room at any nearby inn, he slept on floors and chairs around the airport.
 
Here's what transpired:
 
At 9:30 a.m. (ET) the morning after the Home Depot College Football Awards Show, Jackson hopped on a shuttle that left the Omni Atlanta Hotel at CNN Center and rode to Hartsfield-Jackson Atlanta International Airport.
 
His itinerary called for an American Airlines flight to O'Hare Field in Chicago and then to the Eastern Iowa Airport in Cedar Rapids, Iowa. That plane was next in line to be de-iced, but because of passenger protection guidelines that safeguard against lengthy tarmac delays, the plane was forced back to its gate and the flight was canceled.
 
Working closely with Steve Roe, Iowa's assistant athletics director, athletics communications, Jackson booked a Delta flight that would get out Friday night to Minneapolis-St. Paul and then to Cedar Rapids. Before that flight could take off, a fourth flight attendant needed to arrive.
 
Delta was assured the flight attendant was in transit, so passengers boarded a little before midnight (ET). An hour and a half later, with no fourth attendant, the flight was canceled and passengers were left scrambling the rest of the morning to rest and re-book.
 
Jackson got on an American Airlines flight scheduled to leave Atlanta at 8 a.m. on Saturday, but it left at 9:30 and making his connecting flight from Dallas-Fort Worth to Cedar Rapids was impossible. Once at DFW, Jackson switched to a flight that would arrive at Quad City International Airport in Moline, Illinois, at 4:45 p.m. (CT). He hitched a ride from the airport to his apartment in Iowa City and at approximately 5:30 p.m., his 32-hour day had ended.
 
A Hawkeye Flavor Among Awards Presenters
Two former University of Iowa football players presented awards at the Home Depot College Football Awards show on Thursday at the College Football Hall of Fame.
 
Defensive back Bob Stoops (1979-82) handed the Paycom Jim Thorpe Award to Minkah Fitzpatrick of Alabama as the nation's best defensive back; quarterback Brad Banks (2001-02) handed the Davey O'Brien Award to Baker Mayfield of Oklahoma as the nation's best quarterback.
 
Jackson was a finalist for the Paycom Jim Thorpe Award and Stoops made a point to talk with Jackson at breakfast Thursday morning. The former head coach at Oklahoma took pride in successfully recruiting the Dallas area, but he admitted a swing and miss when it came to Jackson.
 
"I told (Jackson) he is a guy down in the Dallas area that we don't usually overlook, so we blew it at Oklahoma not trying to recruit Josh," Stoops said. "Good for Iowa and coach (Kirk) Ferentz, they found a great, great player."
 
Coming out of high school the 6-foot-1, 192-pound Jackson was rated a two-star recruit by Rivals.com.
 
Patience is a Virtue
One similarity between Banks and Jackson is that both paid dues and waited their turn before starring for the Hawkeyes.
 
Banks threw just 68 passes as a junior in 2001 (completing 41) as a backup to Kyle McCann before receiving the Davey O'Brien Award as the nation's best quarterback in 2002. As a senior, Banks completed 58 percent of his 294 passes for 2,573 yards and 26 touchdowns. He ran for 423 yards and five more scores.
 
Last season Jackson earned his first start in the Outback Bowl against Florida. Entering his redshirt junior season in 2017, he had a total of 18 tackles, six pass breakups, and no interceptions. In 12 games this season, Jackson has 47 tackles, 18 pass breakups, and seven interceptions (two returned for touchdowns).
 
"I was confident after I made a lot of plays in spring ball and I tried to carry that over through summer workouts and make sure I was working hard when camp came around. It was a lot easier and I made a lot more plays than I did in spring and that gave me motivation and confidence going into the season."
 
Applause for the Kinnick Wave
Kaden Kelso, a sixth grader at Berg Middle School in Newton, Iowa, attended the Home Depot College Football Awards show and was asked to speak at a Finalists Reception on Dec. 6 at the Georgia Aquarium.
 
Kelso, now cancer-free, has formed a friendship with Iowa wide receiver Nick Easley, who is also from Newton.
 
Kelso was on stage with head coach Kirk Ferentz and cornerback Josh Jackson when the Hawkeye football team received the 2017 Disney Sports Spirit Award, given annually to college football's most inspirational player, coach, team or figure.
 
"It's amazing I get to accept an award, but the award is not going to me," Kelso said. "I'm representing the people in the hospital who can't be here. I'm lucky enough to be healthy and able to be here. It's awesome being able to accept the award for everybody there."
 
Pouring it On
Ohio State center Billy Price was in a playful mood Wednesday during player interviews at the College Football Hall of Fame. Price, who received the Rimington Award as the nation's best center, was talking to reporters about the Buckeyes' 55-24 loss at Iowa on Nov. 4 that kept them out of the College Football Playoff.
 
Just then, two members of the University of Iowa Athletics External Relations team sat down to hear Price's thoughts. Zach Grant, a videographer who is assistant director for HawkVision Productions, bumped the table and displaced several voice recorders.
 
"Iowa screwed things up again, just as we were talking about," Price said. "Jerry, Jerry, get Iowa out of here!"
 
Jerry Emig, the associate director of communications at Ohio State, did not need to eject Grant. It was all in fun and Price went on video to answer several questions for the Hawkeyes.
 
Words From Rece
ESPN's Rece Davis reflected on Iowa's 2017 regular season and two of its defensive leaders.
 
"They have tremendous individual players — Jackson had a tremendous season, (Josey) Jewell has been one of my favorite players to watch over the last several years.
 
"They epitomize what (head coach Kirk Ferentz) teams always stand for: they are tough and resilient. They have had some disappointments, ranging from the highest of highs to the lowest of lows. The victory over Ohio State (55-24 on Nov. 4) was great, the game against Purdue (24-15 loss on Nov. 18) is probably something they would like to forget and the Iowa State game (44-41 overtime win by Iowa on Sept. 9) seemed to encompass both of those things: it looked lost and it was won."
 
Mother Knows Best
Vanessa and Paul Jackson reside in Corinth, Texas, a sleepy little town less than 10 miles from the campus of the University of North Texas in Denton, Texas.
 
Their son, Josh, enrolled at the University of Iowa in 2014 and this was the message during one of his first phone calls home:
 
"He said Iowa City reminds him of home," Vanessa said. "I think that small town feel helped a lot. He is a big homebody."