Hawkeye Fan Shop — A Black & Gold Store | Fight For Iowa | Hawk Talk Monthly — December | Photo Gallery | Box Score (PDF)
By RICK BROWN
hawkeyesports.com
 
DES MOINES , Iowa — Nicholas Baer's love affair with Wells Fargo Arena continued on Saturday.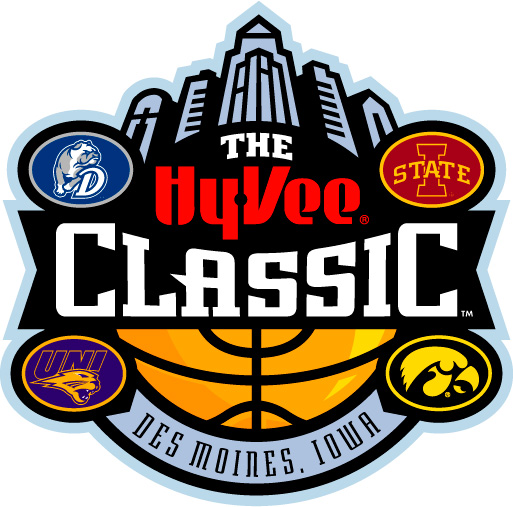 The University of Iowa's junior forward was the catalyst behind the Hawkeyes' 90-64 victory over Drake at The Hy-Vee Classic.
 
"I've always enjoyed playing here," Baer said after recording the third double-double of his career.
 
Baer finished with 11 points and a career-best 14 rebounds in the victory. He also had five assists and a career-best five steals.
 
"When he plays like that, we're a different team," Iowa head coach Fran McCaffery said.
 
But Baer's effort didn't surprise his coach.
 
"He was really good all week in practice," McCaffery said. "You just knew he was going to play like that. You could tell."
 
Baer's length at the front of Iowa's pressure defense fueled a 13-0 first half-run and gave his team all the momentum it needed.
 
"He was really spectacular with his energy level," McCaffery said.
 
None of this comes as a surprise to those who have followed Baer's career. He might not be at Iowa if not for a game he played at Wells Fargo Arena as a senior in high school, in March of 2014.
 
"That is true," Baer said.
 
McCaffery was in the crowd to see his son, Connor, play for Iowa City West in a State Class 4A semifinal game against Baer and Bettendorf.  Baer had three points and two rebounds at halftime. He finished with 24 points and 13 rebounds in a loss.
 
That convinced McCaffery that Baer was a player he wanted, and he invited him to join the program as a walk-on. 
 
After redshirting during the 2014-15 season, Baer has been a part of the Hawkeyes' rotation ever since and has earned a scholarship.
 
The first big game of Baer's career came as a redshirt freshman. He had 13 points, seven rebounds, and a career-best six blocked shots as Iowa defeated Drake in the Hy-Vee Classic, 70-64.
 
"He was the reason we won that game," McCaffery said.
 
Baer's first collegiate double-double came in a 69-46 victory against Northern Iowa in last season's Hy-Vee Classic. Baer finished with 11 points and 11 rebounds.
 
And Saturday, he was a headliner again in the annual gathering of the state's four Division I programs.
 
"It's always nice to come to the Hy-Vee Classic," Baer said. "It has always been a part of the season when we have been able to come together and execute a game plan for 40 minutes. It's more a testament to our team than any personal accolades."
 
Saturday's game a was positive sign that the Hawkeyes have turned the corner after a sluggish start. They improved to 6-6 heading into Tuesday's 8 p.m. game against Southern Utah at Carver-Hawkeye Arena.
 
One reason for that slow start is the fact that Baer missed the first six games with a broken left pinky finger. The reigning Big Ten Sixth Man of the Year feels like he has regained his conditioning and is in a position to play a significant factor the rest of the season.
 
"He has always been a spark on our team," said Jordan Bohannon. "He's starting to get back to normal. He's a huge part of what we're trying to do."
 
Tyler Cook said that Baer leaves a positive example for his teammates with the way he plays.
 
"It's huge to see that kind of energy and effort," Cook said. "When he's locked in and giving everything he has, it's contagious. It makes us all want to put forth that same effort, intensity and focus."
 
Baer is now three-for-three in sterling performances at the Hy-Vee Classic, with one more to go.
 
"He's pretty good on this court," McCaffery said.