Hawkeye Fan Shop — A Black & Gold Store | Kinnick Edge | Hawk Talk Monthly — Dec. 2017 | Pinstripe Bowl Web Site | Official Bowl Tour site | Pinstripe Bowl Tickets | Pinstripe Bowl Coverage | Photo Gallery
By CHRIS BREWER
hawkeyesports.com
NEW YORK CITY — The Hawkeyes' first day in New York City included breathtaking views and a punch-to-the-gut history lesson.
 
University of Iowa football players, coaches, and support staff woke up Christmas morning to a tour of New York City's 9/11 Memorial and Museum, and One World Observatory.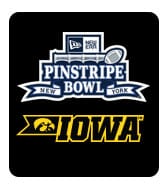 It was an event void of beaches and BBQs, but full of history and reflection.
 
"It's history here in New York," said John Mosley, senior manager of college football development for the New Era Pinstripe Bowl. "It's one of those things that is an expressive experience. It's one of those touch points that we try to give the kids — that experience and education."
 
The Pinstripe Bowl hosts as unique experiences as any postseason destination in college football. And it's not just the feature football game played Dec. 27 inside Yankee Stadium. The pride of New York is on display around the clock, and Mosley said each year the bowl's executives look forward to sharing the memorial experience with schools like the University of Iowa and Boston College.
 
"The kids wish they could spend more time here," Mosley said. "Each city has something to offer and this is one of the things that people need to remember. It's important. It makes New York strong."
 
Miguel Recinos was six years old on Sept. 11, 2001, but said he remembers his mother's reaction. Some days, Recinos said, it feels like yesterday and other times it feels like forever ago. Today it felt very real.
 
"They show you a lot of different perspectives on what happened," Recinos said about the 9/11 Museum.  "It put things in perspective and makes you more thankful for the people who serve our country and do the best they can to make sure things like this don't happen on a regular basis and protect us and keep us safe.
 
"I was lucky to have no one I knew or was related to in the World Trade Center, but I imagine it's something that people who knew the victims think about every day."
 
Before touring the 9/11 Museum, the Hawkeyes visited the reflection pools that sit on the footprint of the original Twin Tower site, and soared 100 floors to the top of One World Observatory to experience 360-degree views of New York City.
 
"It is amazing," said Sam Brinks. "We don't see things like this too often. It's a cool view. A lot of history."
 
The panoramic view from the top floor reached Newark, New Jersey. The hometown of Akrum Wadley.
 
"I see my city," Wadley said. "This is really special and big time for me. Everything is all good vibes. It's really good to be back home. It's probably one of the best times I've had on bowl trips."
 
Day 1 in New York City concludes with a Christmas Spectacular at Radio City Music Hall. On Tuesday, the Hawkeyes are back on the field to run through a final primer before game day.  
 
The eighth annual New Era Pinstripe Bowl is Wednesday in Yankee Stadium in the Bronx, New York, Iowa faced Boston College at 4:15 p.m. (CT). The game is televised by ESPN.